What Should the Best Landing Page Builder for Lead Generation Provide?
The best landing page platform ought to have a range of features and tools that make creating your landing page a breeze. On top of that, it should effectively help you create a final product that looks both professional and visually appealing in order to convert clicks into clients.
The following are the crucial characteristics that a top landing page builder should offer no matter your level of experience:
Ease of Use: most users that make use of landing page creators won't be professional coders—heck, we'd wager that most of them won't have any coding experience at all. A user-friendly interface with a drag-and-drop editor is extremely important for the platform to be suitable for all kinds of users.


Responsive Design: in today's day and age, most users are browsing the web on their mobile devices. In fact, according to BankMyCell.com, 85.95% of the world population owns a smartphone. Therefore, landing pages should be optimized for all devices, guaranteeing a seamless user experience no matter the screen size.


Templates: not everyone is at the same level of creativity either. Not only that, but not everyone is a professional designer either. To get you started on your landing page creation, the best landing page website builder ought to provide a whole catalog of professionally designed landing page templates.


Customization: however, sticking to the default template is, well, not professional at all. No one wants to opt in to a service or purchase a product from a website that looks like someone just picked a random template and went with it. So, the ability to fully customize landing page elements is indispensable in order to match the branding and messaging of the business.


Integrations: it's also ideal that the landing page builder you're using allows for easy and seamless integration of third-party software. So, whether it's lead capture forms; payment gateways; email marketing platforms; or other tools and platforms, such as CRM systems, etc. the best landing page generator will allow you to integrate these third-party tools.


A/B Testing: one of the most important aspects of having a landing page is optimizing it for in order to boost conversions. However, to do that, you need to measure the impact of your optimizations via A/B testing (split testing). Therefore, the best landing pages creator offers the ability to conduct A/B tests.


Analytics and Reporting: on a related topic, how can you know how your landing pages are performing? Simple: analytics tools. The best landing page builders provide you with tools that provide insights into visitor behavior, conversion rates, click-through rates, and other relevant landing page metrics.


Security: would you buy anything from a website you don't trust? Of course not. And neither would your prospective customers. In other words, you need to make sure your landing pages are secure and comply with data protection regulations to build trust with visitors.


Lead Magnet Support: if you're planning on building a user base and you're asking visitors for their details, the rate of conversion is far greater if you sweeten the deal with a freebie or discount. Therefore, a fantastic landing page builder allows marketers the ability to offer lead magnets.


Conversion-Focused Elements: Incorporation of conversion-focused elements like countdown timers, social proof (testimonials, reviews), and clear calls-to-action (CTAs).


Exit-Intent Popups: The option to include exit-intent popups that capture leads when visitors are about to leave the page.


Multi-step Forms: Ability to create multi-step forms that gradually collect more information, improving user experience and potentially increasing conversions.
The Best Landing Page Builders 2023
How We Chose the Best Landing Page Builders for Marketers
There were a number of factors that we took into consideration in order to compile our listicle of the top landing page builders. Some of the landing page tools that we identified in this article are ones that we have been using ourselves for countless years. Others we had to try out for the sole purpose of this article.
To discover what the best landing page builder 2023 for you could be, we took into consideration the criteria we mentioned in the previous section. In other words, we checked whether the tool was user-friendly, provided an array of professional-looking templates, offer customizable options, and so on.
We also made sure to check for pricing, making sure that there were options that won't break anyone's bank, but enough range for price scaling that can be ideal both for lone users as well as agencies. Another factor we took into account is the general user satisfaction as well.
As we said, we only tried out some landing page platforms for the sake of this article, so there might have been some flaws that we unfortunately overlooked.
So, which are the best landing page creators that we have chosen for you? Let's go through them together:
1. Unbounce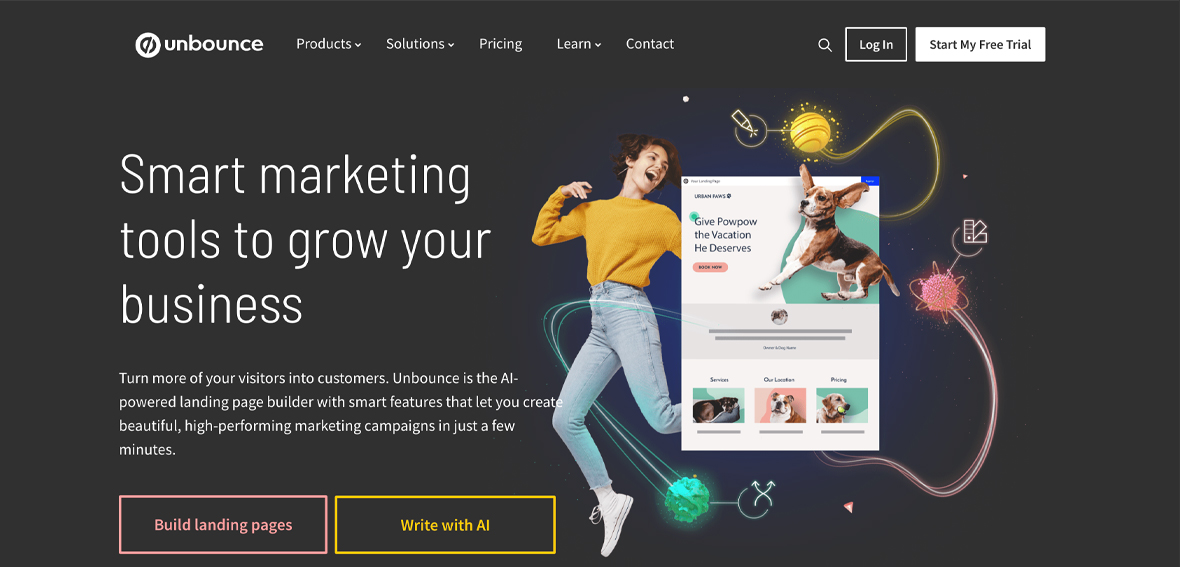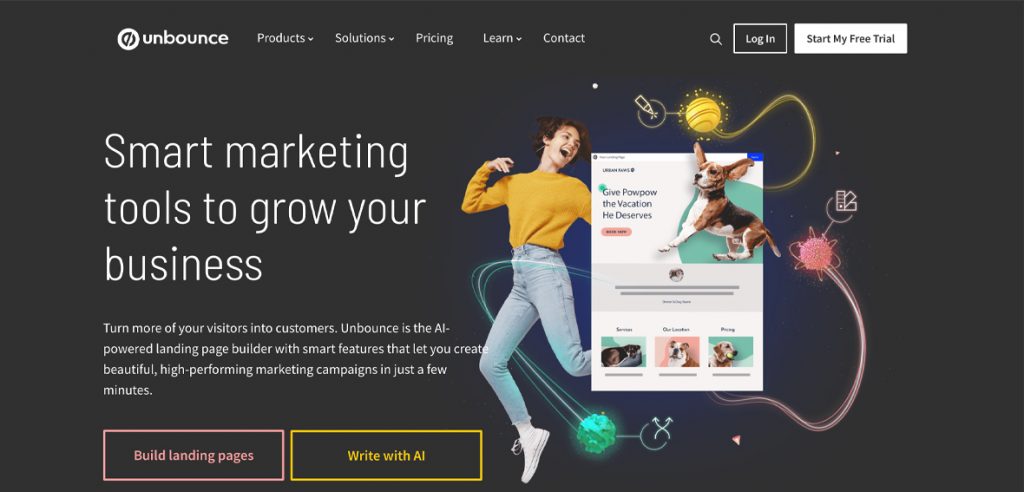 Unbounce is a powerful landing page builder and arguably one of the most well-known. Thanks to its extremely intuitive drag-and-drop interface, it's a fantastic option for beginners and advanced users alike. This is thanks to the fact that both a classic builder and an AI-powered smart builder are available.
Moreover, it is also suitable for any size of business, especially thanks to their versatile pricing plans. In fact, Unbounce offers four pricing plans ranging from $90 to $525 per month, with a 10% discount on yearly subscriptions. As you can see, however, it's not the most affordable landing page builder, so maybe it's best left to businesses and agencies that can easily absorb this cost.
There are many features that would recommend Unbounce as one of the best landing page builders 2023. These would include the option to A/B test landing pages and pop-ups; the over 125 customizable AI-powered templates on offer; and their Smart Traffic feature, which directs visitors to the best-converting variant.
While Unbounce is undeniably great, be aware that they don't offer a built-in analytics tool, which is far from ideal. Moreover, their customer support has been criticized as inconsistent and unreliable, so bear this in mind when encountering any issues.
2. Leadpages


Leadpages is a no-code website and landing page builder designed for small businesses, making it an overall good website builder. It offers over 200 mobile-friendly templates and easy drag-and-drop customization, making it suitable for users with varying levels of technical expertise.
Key features of the Leadpages landing page maker include image, video, and form integration, built-in conversion guidance, high page-load speed, unlimited page publishing, and built-in A/B split testing. It also integrates with 40+ services like Zapier for automation and offers competitive pricing starting at $37 per month for a standard plan.
However, the lower priced tiers are limited, and you will need to subscribe to higher-tier plans in order to gain access to A/B testing, online payments, advanced integrations, and support. Leadpages is a suitable choice for small businesses and marketers who want to create effective landing pages without extensive coding knowledge.
3. HubSpot


HubSpot Marketing Hub is an all-in-one marketing suite that simplifies and enhances businesses' marketing efforts. It offers an integrated platform for marketing tools and data, enabling personalized experiences to attract and convert customers effectively.
One standout feature is the user-friendly drag-and-drop editor for designing and customizing landing pages. It is suitable for both agencies and solopreneurs, with a responsive and intuitive interface. The platform also offers A/B testing, personalized content, and smart rules for visitor interaction. It also integrates seamlessly with HubSpot CRM, enhancing collaboration between marketing and sales teams.
However, there are some cons to consider. HubSpot's pricing is higher compared to some alternatives, and some advanced features may have a learning curve. The pricing varies, with a free version available for simple landing pages and paid plans starting at $45 per month for more comprehensive solutions.
4. Instapage


Instapage is a landing page builder software that is optimized for quick response, making it one of the fastest, if not the fastest landing page builder. Instapage empowers marketers to create personalized and optimized landing pages at scale, improving campaign results and ROI. It offers a user-friendly interface and a drag-and-drop feature for quick creation of ad-to-landing-page experiences.
The platform supports multiple target audiences and campaign goals, with features like ad mapping, AI-powered content, experimentation, and built-in analytics. Some pros of Instapage include over 500+ layouts for landing pages, reusable pages with Instablocks, a form builder, customizable widgets, heatmaps, and A/B testing. It also offers real-time visual collaboration.
However, some cons of Instapage are that it is considered expensive for smaller businesses; in fact, the entry-level price for Instapage is $199.00. Moreover, there is room for improvement in their customer service.
Instapage's Collaboration Solution allows for real-time communication and collaboration among stakeholders, similar to commenting on Google Docs. It enhances collaboration without compromising privacy and helps streamline landing page modifications.
Instapage is best suited for mid to large-scale agencies or companies with diverse marketing teams. It offers features like a centralized dashboard, "Insta blocks" for duplicating page sections, and seamless collaboration tools.
In terms of customer feedback, users appreciate Instapage's ability to quickly build efficient landing pages, the company's customer query resolution, and positive integrations. However, some users find the pricing plans to be expensive and the basic plan lacks an A/B testing tool.
5. Wix


Wix is a versatile platform for building and scaling businesses online, with lightning-fast web performance, enterprise-grade security, and reliable infrastructure. It offers a wide range of features such as online scheduling, payments, branding, and eCommerce solutions.
Wix is beginner-friendly with a drag-and-drop editor, 900+ aesthetic templates, and built-in SEO optimization tools. It also provides robust analytics and A/B testing tools. However, there are ads on the free plan and limited bandwidth and storage on free and lowest-tier paid plans. Custom domain names are only available on premium plans.
Wix offers a wide range of landing page options, including 'Coming soon' and lead generation pages. Collaboration with freelancers or agencies is available through the Wix Partner platform. Overall, Wix is suitable for beginners and professionals alike, offering integration options and support for multiple languages.
6. ClickFunnels


ClickFunnels is an online sales funnel platform that simplifies the creation of effective sales pages. The entry-level price is $97 per month. The user segment consists of 96% small businesses and 3% mid-market businesses. ClickFunnels is best for driving leads and sales.
Some key features of ClickFunnels include the ability to create sales pages that convert visitors into leads and customers, without the need for coding or design experience. It offers plug-and-play templates and customization options. Training and tutorials are provided, and it integrates smoothly with third-party apps, email, and payment systems.
Pros of ClickFunnels include pre-made landing page funnels, sales-oriented features for upselling, cross-selling, and down-selling, analytics to track conversion rates and analyze data, and integration with popular services like Salesforce and Mailchimp. It also offers training events from seasoned marketers.
However, there are cheaper alternatives available for basic landing pages, and the customization options may not be as rich as other solutions.
ClickFunnels offers a 14-day free trial and its basic plan starts at $147 per month, which includes 1 website and unlimited landing pages.
Unique features of ClickFunnels include its focus on generating, nurturing, and closing leads, as well as pre-built funnel systems such as webinar funnels, checkout funnels, and membership funnels.
Notably, ClickFunnels was founded by Russell Brunson, a seasoned direct response marketer. It offers a range of landing page options, particularly geared towards sales leads.
In conclusion, ClickFunnels is recognized for its effectiveness in driving leads and sales. It offers pre-made landing page funnels, analytics, and integration options. While it may not be the cheapest option for basic landing pages, its focus on conversions and sales makes it a preferred choice for businesses aiming to generate leads and drive sales.
7. Landingi


Landingi is a comprehensive platform for marketers to create high-converting landing pages, mobile pages, and sales funnels. It offers an intuitive drag-and-drop editor and over 400 ready-to-use templates tailored for various industries.
Landingi also provides integrations for workflow automation, marketing effectiveness, and reaching goals faster. The platform is suitable for both non-technical users and developers, with features for tracking leads, automating tasks, and adding HTML and JS codes.
The free plan is limited, but the paid plans provide access to unlimited landing pages and conversions. However, analytics could be more comprehensive, and centering multiple blocks can be challenging. Overall, Landingi is a powerful landing page builder designed for quick creation of high-converting landing pages.
8. ConvertKit


ConvertKit is an email marketing service that caters to creators such as authors, bloggers, YouTubers, and musicians. It offers over 50 base templates and customization options for creating landing pages. The platform integrates with third-party apps like Zapier and Unsplash for images. It also provides pre-scheduled email sequences for new subscribers and mobile-optimized pages.
Pros of ConvertKit include its suitability for creators monetizing their content, dynamic forms, seamless integration with third-party tools, and a free plan for up to 300 contacts. However, some themes may have restrictions, A/B testing options are limited, and the analytics could be more comprehensive.
Paid plans for ConvertKit start at $9/month, and its unique features include integration with email marketing services, seamless automation integration with third-party tools, and custom data collection forms.
In conclusion, ConvertKit is a versatile platform for creators looking to build and monetize their email lists. It offers a range of templates, customization options, and integration with Unsplash for images. While there may be some limitations with certain themes, the platform's focus on dynamic forms and integration with third-party tools makes it a strong choice for creators aiming to engage and convert their audience.
9. Wishpond


Wishpond is a user-friendly landing page builder platform that aims to enhance lead generation and boost sales. It offers over 100 mobile-responsive landing page templates designed for various industries. The platform is particularly suited for marketers who want to create appealing landing pages without the need for design or programming skills. Users can publish their landing pages on their website, WordPress, or social media platforms. Wishpond also provides integrations with Shopify and other third-party clients, along with detailed consumer analytics and reporting to monitor website performance.
The main features of Wishpond include the availability of over 100 mobile-responsive landing page templates, an intuitive editor for easy page creation, integrations with Shopify and other third-party clients, detailed consumer analytics and reporting, social media sharing plugins, real-time marketing analytics, live chat widgets, and exit-intent pop-ups.
The pros of using Wishpond include its user-friendly interface, high-converting templates, integrations with various tools, availability of live chat support, A/B testing for optimization, and additional marketing automation tools. However, there are some cons to consider, such as limited customer support and potential bugs in the program.
Pricing details are not specified in the provided information, but Wishpond offers both DFY (Done-For-You) and DIY (Do-It-Yourself) landing page services. It also has social media functionality for seamless integration with social promotions.
In conclusion, Wishpond is a simple yet effective landing page builder that focuses on maximizing lead generation and sales. It offers an intuitive interface, a variety of high-converting templates, and additional marketing automation tools. While there are some limitations in terms of customer support and potential bugs, the user-friendly nature of Wishpond makes it a suitable choice for both beginners and more experienced users.
10. GetResponse


GetResponse is a highly rated email marketing platform that is best suited for businesses looking to build landing pages to support their email marketing campaigns. It offers a range of tools to help businesses grow their audience, engage subscribers, and convert them into paying customers. With over 25 years of experience, GetResponse provides user-friendly solutions, 24/7 customer support, and features beyond email marketing, such as automation, list growth, webinars, and live chats.
Some notable features of GetResponse include its email marketing and automation platform, landing page builder tool with a drag-and-drop editor, conversion funnels, A/B testing tool, and built-in marketing automation. It also offers integration with third-party tools.
While GetResponse has many pros, such as being a comprehensive email marketing platform, user-friendly solution, award-winning customer support, and offering features like landing page building and automation, there are a few cons to consider. The user interface may appear outdated, there may be some bugs in the landing page editor, and the free accounts have limited features.
In terms of pricing, GetResponse offers a free plan with limited features for up to 1000 unique visits, and paid plans start at around $17.50 per month.
Some unique features of GetResponse include the integration of landing page design and email marketing, conversion funnels and A/B testing for optimization, landing page variants and A/B testing tools, and webinar promotion and sales funnel integration.
Overall, GetResponse is a comprehensive platform that combines email marketing and landing page building. It offers a range of features and integration options, making it a versatile choice for businesses looking to optimize their email marketing campaigns and landing pages. Despite some potential limitations, GetResponse's strengths in customer support and automation make it a valuable option for businesses of various sizes.
11. Swipe Pages


Swipe Pages is a mobile-first landing page builder that focuses on creating engaging experiences for mobile users. It offers instant loading Google AMP landing pages and a drag-and-drop interface for easy page creation. With over 40 conversion-optimized templates, A/B testing, and integrations with third-party tools like Zapier and Shopify, Swipe Pages aims to improve lead generation and sales conversions.
The pros of Swipe Pages include its mobile swipe pages for enhanced engagement, fast page loads, a variety of templates for different goals, integration with Google AMP and Google Ad traffic, A/B testing and optimization tools, and affordable pricing plans.
However, there are some cons to consider. Swipe Pages does not offer funnel offerings like upsells or order bumps, limited dynamic text replacement on certain plans, and server-side A/B testing is only available on the highest-tier plan.
Pricing for Swipe Pages starts at $29/month for the Startup plan.
Unique features of Swipe Pages include mobile swipe landing pages for app-like engagement, Google AMP integration and support for Google Ad traffic, multi-step forms, integrations with Google Analytics and Facebook Pixel, responsive multi-screen editing, and 1-click Stripe checkouts.
In conclusion, Swipe Pages is a mobile-first landing page builder that offers instant loading Google AMP landing pages. It caters to mobile users with its focus on mobile swipeable experiences and enhanced engagement. While some advanced features may be limited on certain plans, Swipe Pages provides an affordable option for marketers and entrepreneurs looking to create high-converting landing pages with a mobile-first approach.
12. Carrd


Carrd is a free website and landing page builder that is perfect for beginners. It offers an easy-to-use editor with various element blocks, allowing you to add text, videos, images, and forms. The platform is mobile-responsive with preview mode, and themes have somewhat restrictive layouts. While most of Carrd's core features are available for free, you'll need to sign up when you're ready to save or publish your page.
Pros of Carrd include an easy-to-use editor for beginners, no need to create an account to start designing, mobile-responsive design with preview mode, free plan available with core features, and a user-friendly interface for quick page creation. Cons include a limited free plan with restricted features, signup forms requiring a paid plan, some occasional lags in performance, and themes with somewhat restrictive layouts.
Carrd's pricing includes a free plan available with core features and 3 sites, premium plans starting at $9/year for more templates and features, and a Pro Standard plan for advanced features costing $19/year. Overall, Carrd is a great choice for beginners looking to create simple landing pages and websites for free, with the option to upgrade to a premium plan for more advanced features.
13. Elementor


Elementor is a highly popular landing page builder plugin for WordPress. It is best suited for WordPress users. The plugin offers a wide range of features and benefits for marketers, developers, and designers.
One of the main highlights of Elementor is its extensive library of designer-made landing page templates. With over 300 basic and pro templates available, users have a variety of options to choose from. The plugin also provides a powerful drag-and-drop editor, allowing users to easily customize their landing pages according to their preferences.
Elementor offers custom forms for lead generation, allowing users to collect valuable information from their visitors. It also provides options for custom CSS and dynamic content, giving users more flexibility in designing their landing pages.
Integration with analytics and optimization tools is another notable feature of Elementor. Users can easily connect their landing pages with tools like Google Analytics, Optimizely, and Hotjar, enabling them to track and optimize their page performance.
Pros of Elementor include the wide variety of templates and widgets available, customizable design elements for color, layout, and fonts, and a responsive editing feature for mobile optimization. The plugin also offers a free plan with upgrade options, allowing users to try out its features before committing to a paid plan.
However, there are some cons to consider. Some users have reported experiencing delays in page loading compared to alternative plugins. Customer support could also be improved, according to user feedback. Additionally, third-party addons can sometimes cause compatibility issues.
In terms of pricing, Elementor does not offer a free plan or trial. However, they do provide a 30-day money-back guarantee. The Pro Plugin plan starts at $59/year for 1 Pro website with the landing page builder.
In conclusion, Elementor is an excellent choice for WordPress users who want to create custom landing pages with ease. Its extensive library of templates, powerful editor, and integration options make it a versatile tool for designing visually appealing landing pages. While it lacks a free plan, the provided options offer good value for the features and capabilities Elementor provides.
14. MailerLite


MailerLite is an email marketing platform that offers a free landing page builder and caters to various aspects of marketing. It allows businesses to sell digital products using Stripe, such as subscriptions and paid newsletters. The landing pages can be enhanced with countdown timers and limited coupons to engage visitors effectively. Additionally, MailerLite provides click heatmaps, A/B testing, and SEO settings to improve landing page visibility. The software offers over 40 professional templates to choose from.
The platform has a straightforward UI for easy navigation and offers surveys and quizzes for engagement. It is affordable, with a free plan that allows up to 10 landing pages and a paid plan that costs $10/month for unlimited websites, landing pages, and forms.
MailerLite is an attractive option for those seeking a simple yet effective landing page solution. Its affordability and combination of features make it a popular choice among SMB marketers.
15. Systeme.io


Systeme.io is a comprehensive marketing platform that focuses on marketing automation and growth. It offers an intuitive drag-and-drop builder for creating mobile-responsive pages. The platform provides pre-designed landing page templates categorized by industry, making page creation quick and efficient.
Some notable features of Systeme.io include A/B testing, which helps optimize performance, sales funnels that guide visitors through the conversion process, and email marketing capabilities for effective communication.
In terms of pricing, Systeme.io offers three plans: the Startup Plan at $27 per month, the Webinar Plan at $47 per month, and the Enterprise Plan at $97 per month.
In conclusion, Systeme.io is a versatile marketing platform that simplifies the creation of mobile-responsive pages. It offers a range of features such as A/B testing, sales funnels, and email marketing. The availability of pre-designed templates organized by industry further streamlines the process of creating landing pages for various purposes.
16. KickoffLabs


Kickofflabs is a platform that is well-suited for promotional efforts using landing pages. It excels in boosting conversion rates through contests promoted on these pages. Contests are shown to have a significantly higher conversion rate compared to other calls to action. The platform specializes in setting up various promotional campaigns such as viral giveaways, sweepstakes, and product launches with ease.
Kickofflabs supports pre-launch waitlists for generating interest, offers bonus entry sweepstakes for increased engagement, and facilitates leaderboard giveaways for gamified promotions. The intuitive landing page builder of Kickofflabs makes it accessible for users with little to no learning curve required. The platform also provides an SMS integration option to extend the reach of giveaways offline.
The pros of Kickofflabs include integration with SMS for wider reach, multiple contest options to choose from, and a pre-launch waitlist feature. However, the cons include higher pricing for websites with higher traffic and limited template options available.
In conclusion, Kickofflabs specializes in leveraging contests and various promotional techniques on landing pages to significantly improve conversion rates. Its diverse range of contest options, intuitive builder, and SMS integration offer flexibility for creating engaging promotional campaigns. However, users should consider the pricing and template limitations when evaluating the platform.
17. Lander


Lander is a free landing page builder that offers a variety of pre-designed templates for different scenarios such as products, services, events, lead capture, e-books, and app downloads.
Notable companies like the New York Times, Capcom, and Cisco use Lander's services. The platform integrates with popular marketing tools like Mailchimp, Salesforce, and Google Analytics. However, potential bugs can lead to a frustrating user experience.
Lander offers a free version with up to 5000 visitors per month and three custom domains, with the option to upgrade for 25,000 visitors per month and 10 custom domains.
18. Ucraft


Ucraft is a user-friendly website builder that also allows users to create landing pages. It offers different pricing tiers, with the cheapest plan starting at $10 per month (annual payment). However, this plan has limited features and lacks advanced functionalities like A/B testing.
The drag-and-drop editor and basic template collection of Ucraft make it easy to use, but it may be more suitable for creating basic business pages rather than intricate landing pages. To help users make a decision, Ucraft offers a 14-day free trial to explore its capabilities.
Key features of Ucraft include 24/7 Live Chat support, integration with tools like Google Analytics and Intercom, and a drag-and-drop editor for ease of use. The free trial allows users to assess if Ucraft meets their needs before committing.
19. ShortStack


ShortStack is a platform that specializes in creating landing pages for contests and giveaways. It has fraud detection and prevention features that increase views by over 80%.
The platform is user-friendly and requires no coding skills. ShortStack offers four pricing plans, with annual billing resulting in savings of up to 20%.
Key features include email marketing tools, customizable calls to action, marketing automation capabilities, campaign analytics tools, and seamless integration with popular platforms. Real-time editing is also available for efficient page creation.
20. Mailchimp


Mailchimp is a leading Email Marketing and Automations platform with over 12 million customers worldwide. It offers marketing technology, customer support, content, and data-driven recommendations. Businesses can establish an online presence, connect with audiences, and create multichannel marketing campaigns all in one place. Notable brands like TEDTalks, Shutterstock, and Nikon India trust Mailchimp.
Mailchimp's landing page creator is easy to use and allows users to design visually appealing landing pages with minimal effort. Customers using this feature have experienced a 36% increase in audience growth rate. It's ideal for experimentation and testing products, messaging, and ideas before launching. Online payment processing through Square enables direct sales from landing pages, eliminating the need for a full e-commerce store.
Mailchimp's landing pages can showcase products, top sellers, and collections, enhancing the shopping experience. Integrating landing pages with other marketing efforts can create a cohesive customer experience. The platform offers various pricing options, excellent analytics and reporting, and a user-friendly setup. Phone support is limited to the top plan.
Are Landing Pages Worth It?
Yes, landing pages are worth it, and they play a crucial role in digital marketing and lead generation strategies. Landing pages are standalone web pages designed with a specific goal in mind, such as capturing leads, promoting a product or service, driving conversions, or encouraging user engagement. Here are some reasons why landing pages are worth the investment:
Focused Conversion Goals: Landing pages are designed with a single, focused objective, making it easier to guide visitors toward taking a specific action, such as signing up for a newsletter, filling out a form, or making a purchase.


Higher Conversion Rates: Compared to regular website pages, landing pages tend to have higher conversion rates because they eliminate distractions and present a clear value proposition to visitors.


Targeted Messaging: Landing pages allow you to tailor your messaging and content to a specific audience, ensuring that visitors find information relevant to their needs and interests.


Data Collection: Landing pages are effective for collecting valuable customer data, such as email addresses, names, preferences, and more. This information can be used for personalized marketing and lead nurturing.


Improved Paid Advertising Performance: When running paid advertising campaigns, directing traffic to a dedicated landing page can result in better ad relevancy and quality scores, leading to lower costs per click and better ad performance.


Measurable Results: Landing pages provide clear metrics on visitor behavior, conversion rates, and other key performance indicators, helping you measure the success of your campaigns and make data-driven decisions.


A/B Testing: Landing pages allow for A/B testing, where you can test different elements (such as headlines, images, CTAs) to identify the most effective variations that lead to higher conversions.


Enhanced User Experience: Landing pages are optimized for user experience, providing a clear and concise layout, easy navigation, and a seamless path to conversion.


Segmentation and Personalization: Landing pages can be customized for different audience segments, allowing you to deliver targeted offers and content that resonate with specific groups.


Lead Generation and Sales: For businesses, landing pages are a valuable tool for lead generation and sales. By capturing contact information and nurturing leads, landing pages contribute to revenue growth.


Event Promotion: Landing pages can effectively promote events, webinars, workshops, and product launches, providing all the necessary details and encouraging registrations.


Reduced Bounce Rates: When users arrive at a landing page with relevant content, they are more likely to stay engaged and take action, reducing bounce rates.


In summary, landing pages are a powerful component of digital marketing strategies that can significantly impact lead generation, conversion rates, and overall business growth. They allow businesses to create focused, targeted, and effective campaigns that engage visitors and encourage them to take desired actions. Whether you're running paid ads, launching a product, or aiming to grow your email list, landing pages are a valuable asset that can deliver substantial returns on your investment.
FAQs
What is the best free landing page builder?
There are several landing page companies that offer a limited version of their tool for free. However, if we had to choose the best free landing page builders, we would settle for Carrd, Wix, ConvertKit, and GetResponse.
How much should it cost to build a landing page?
The costs that are required to build landing pages will vary on the approach you take. For example, if you hire a professional to do it for you, the cost can range from $600 to $5,000, depending on whether you hired a freelancer or agency.
If you decide to do it yourself, it can end up costing you nothing as you would have used a free landing page maker. Otherwise, if you decide to subscribe for one of the tools above, it could cost you anywhere from a few dollars a month or over a hundred in order to use the full range of its features.
What is the easiest landing page builder?
The majority of the landing page tools that we have tested for this blog post are user-friendly and easy to use, even for someone who has no idea what they're doing. Landing page services like Carrd, Wix, and HubSpot, however, are definitely great options to consider.
How many hours does it take to design a landing page?
This depends on 3 factors: the complexity of the landing page, the experience of whoever is making it, and how many people are working on it at once. A simple landing page could take an hour or 2 at most, while a complex, dynamic landing page can take up to entire week.
What is the cheapest way to create a landing page?
There are many cheap landing page builders available that won't cost you more than $100 a year. Using creators like Carrd, Wix, and Elementor, for example, will make sure that you can create landing pages without destroying your bank account.
Can I create my own landing page?
Absolutely! There is nothing at all stopping you from creating your own landing page using one of the landing page providers that we mentioned above. Of course, make sure it not only looks good, but works fine on all devices, is aligned with your marketing goals, optimized for conversions, etc.
Can you create a landing page without a website?
Indeed, you can! Using landing page builders like ConvertKit, Instapage, Unbounce, or Leadpages, you can create landing pages on host it on their websites. The builders will then provide a shareable link to your page.
Does Shopify have a landing page builder?
Yes, you can definitely create a landing page through Shopify. You can either use the tools available on the Shopify platform, or else integrate an external app that can help you build a landing page.
How do I create a high-performing landing page?
You will need to follow established landing page best practices in order to create a landing page that generates a lot of leads. These would include focusing on a clear headline; having concise content, compelling visuals, and a single CTA; as well as and social proof. It's also a good idea to implement A/B testing for continuous improvement.
What is the best landing page builder for WordPress?
The best WordPress landing page builder would definitely have to be Elementor. However, there are many other great alternatives, like Beaver Builder, SeedProd, Divi Builder, and Leadpages.
Is it easy to use a landing page builder?
Thankfully, yes! as modern landing page builders offer intuitive drag-and-drop interfaces, pre-designed templates, and tutorials. Anyone, even an absolute beginner at web design, can creat effective landing pages with only a bit of practice.