What Is a Landing Page & What Should It Include?
What Is a Landing Page?
A landing page is a page "outside" a website. It's the destination page of an internet user, after he has clicked on an external link (AdWords advertising, email campaign, banner advertising…).
It aims to convert visitors into a commercial lead, by encouraging them to fill out a contact form, often in exchange for freebies (like free Google Ads books) or promos (like a discount on a Google Ads course).
What Should a Landing Page Include?
In order to have an excellent landing page, it is necessary to follow a precise layout, while at the same time never forgetting to be original. Here is what you the ideal landing page ought to have:
punchy title
Visuals are consistent with your offer
short, clear, and visible form
call-to-action that is visible and leaves no doubt as to its purpose
persuasive content that's adapted to the visitor
an optimal and user-friendly design
social proof like reviews and testimonials
These are the main components of a landing page. However, if you're a little stuck, you can take a look at our article on the best landing pages for inspiration.
Each of the landing pages we've highlighted represent a different aspect of what makes a landing page fantastic: whether it's beautiful graphics or a short copy, you're bound to be inspired one way or another.
Anyway, now let's turn our attention to the best templates that can help you achieve your marketing goals.
High Converting Landing Page Templates to Consider
So, which landing page template should you consider using? Well, the subject is vast, and many of the best landing page builders also come with a plethora of templates–and each one looks just as fantastic as the last!
How to find your way through all this choice? Which template is best suited to your needs, business strengths, and constraints? We'll tell you more below as we go through the 18 best landing page templates we have identified.
1. MULTOR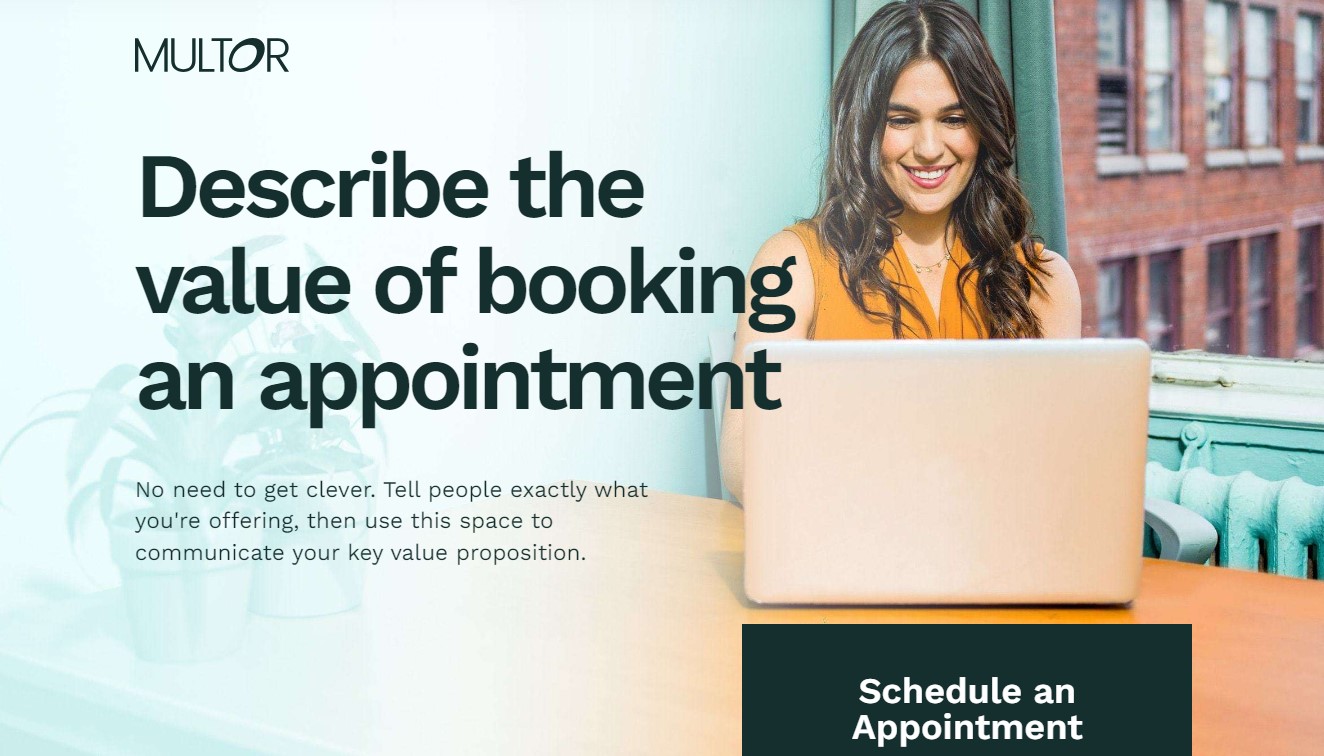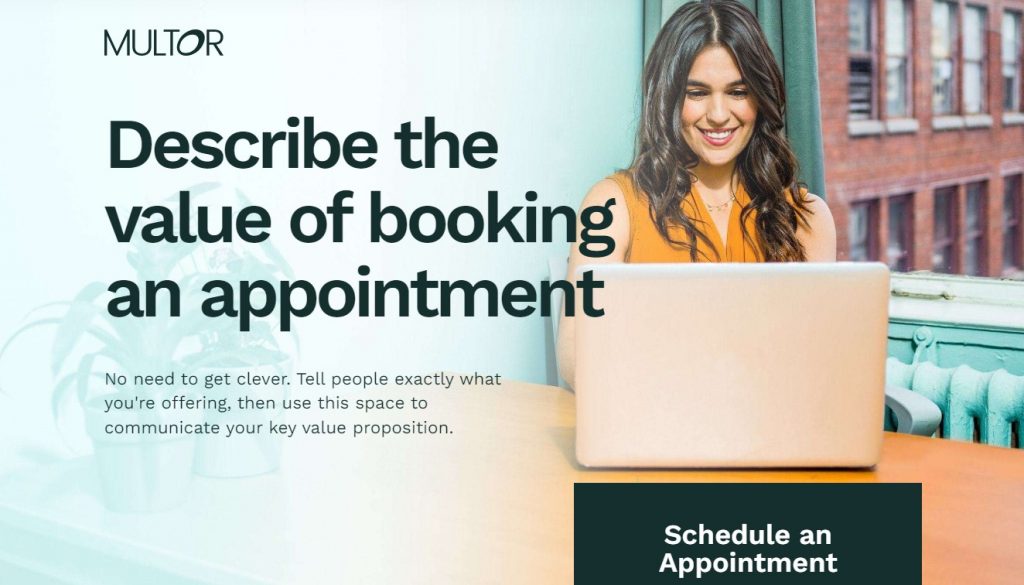 Starting with the first landing template on our list, we have the MULTOR template by Unbounce, one of the leaders of the market. And with good reason, as they have a rather exhaustive repetoire of top landing page templates—in fact, it has a library of over 100 templates!
But why did we choose this one in particular?
Well, we chose MULTOR because it is a template that's perfect for landing pages that advertise events, online classes, webinars, or any other kind of event that requires users to set up appointments. It provides plenty of breathing room for its individual elements, so that users are not distracted by a lot of clutter.
Moreover, the pastel colours of the template go a long way in making the landing page not only visually appealing but also calming. Finally, the template comes with a readymade form that's simple and intuitive to use.
2. A/B Space


If you're looking for the best real estate landing page templates, this would definitely be one for you to consider. The A/B Space template is a gorgeous template provided by none other than Elementor, the popular WordPress website builder.
This template has been created in particular for landing pages that advertise shared working spaces and offices for rent. Not only does the template look great, making full use of the grayscale by contrasting dark and deep grays with light ones, but it packs the template with plenty of features aimed to make convincing potential clients much easier.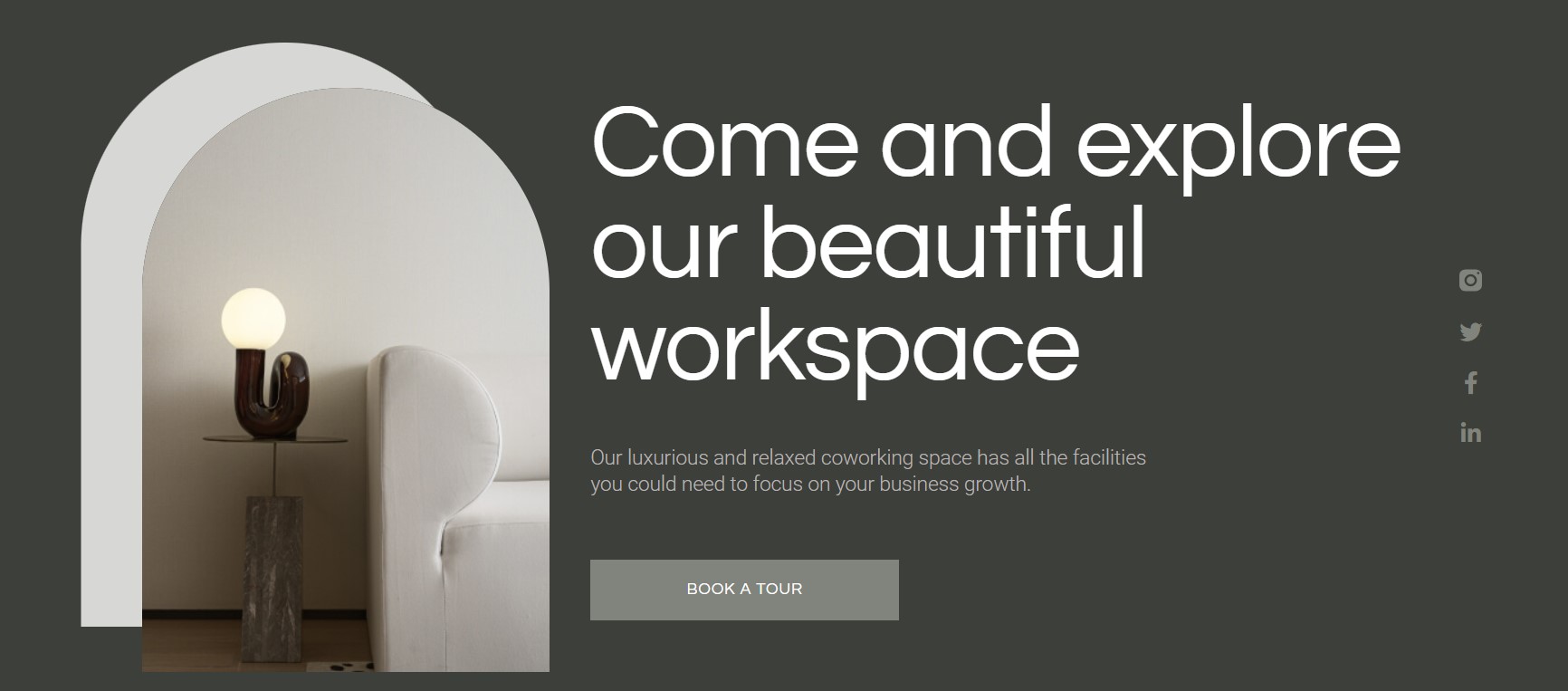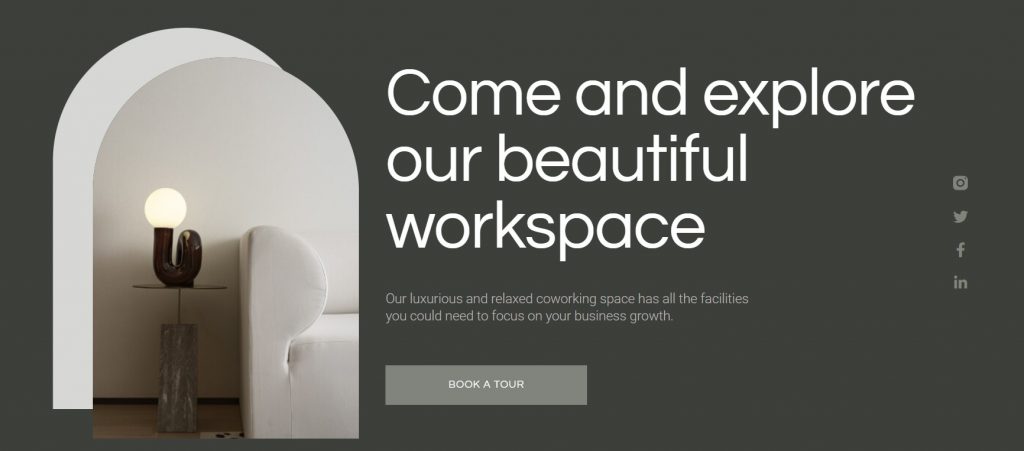 Not only does it provide plenty of breathing room for all of its elements, it also provides a dedicated space for explaining the full array of benefits your product offers, a number of CTAs urging users to book a tour of the office space, and a short-and-sweet form where users can book their tour.
3. ArchMasters Architecture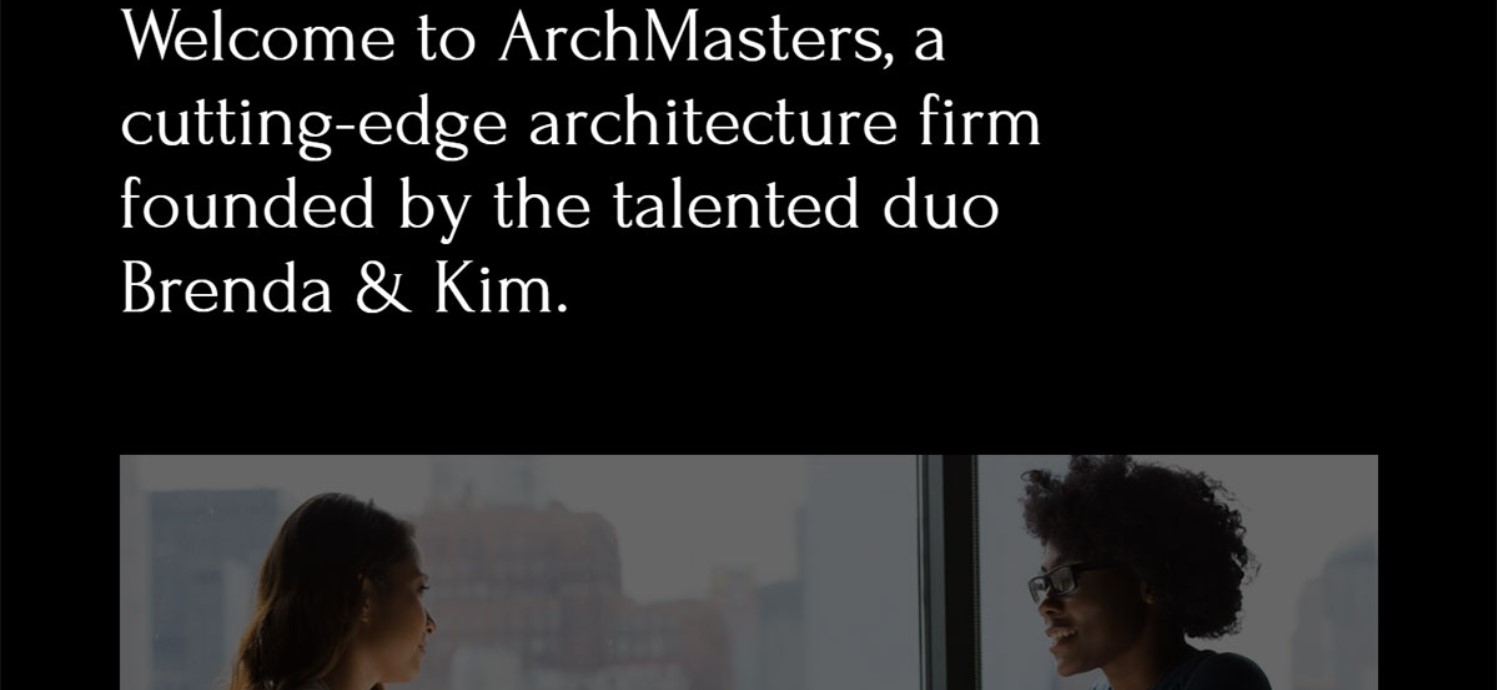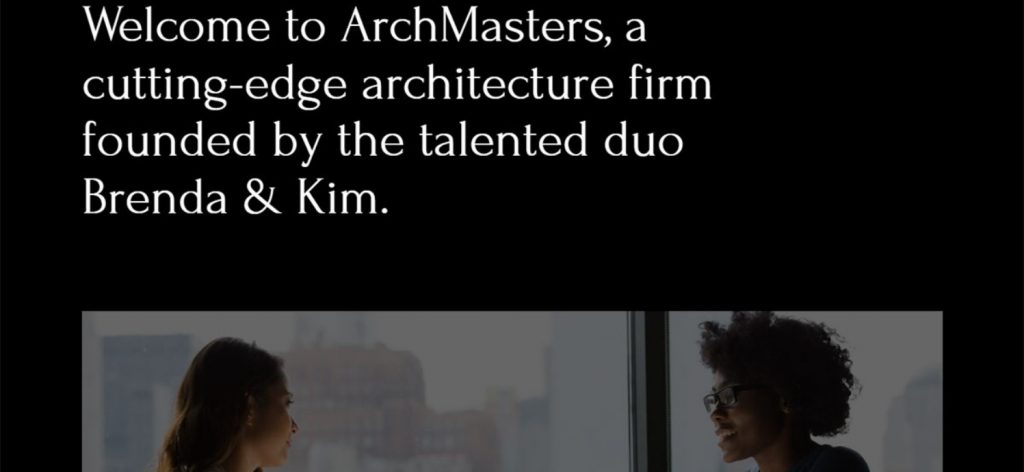 On the theme of the best WordPress landing page templates, we have the ArchMasters Architecture template which is a portfolio landing page template that is designed primarily for architects and other similar professions that require a space to showcase their work.
The template is dark, using nothing more than a black-and-white palette, only to be interrupted by the colours of the images that the landing page creator will eventually insert, it immediately conveys as "let's-get-down-to-business" feel.
Not only does the template feel very professional, it gives a lot of space for architects and artists to display their work as well as provide a list of available services. On the whole, this simple yet effective template is perfect for any business that is considering using a landing page to attracts potential clients.
4. CoffeeShop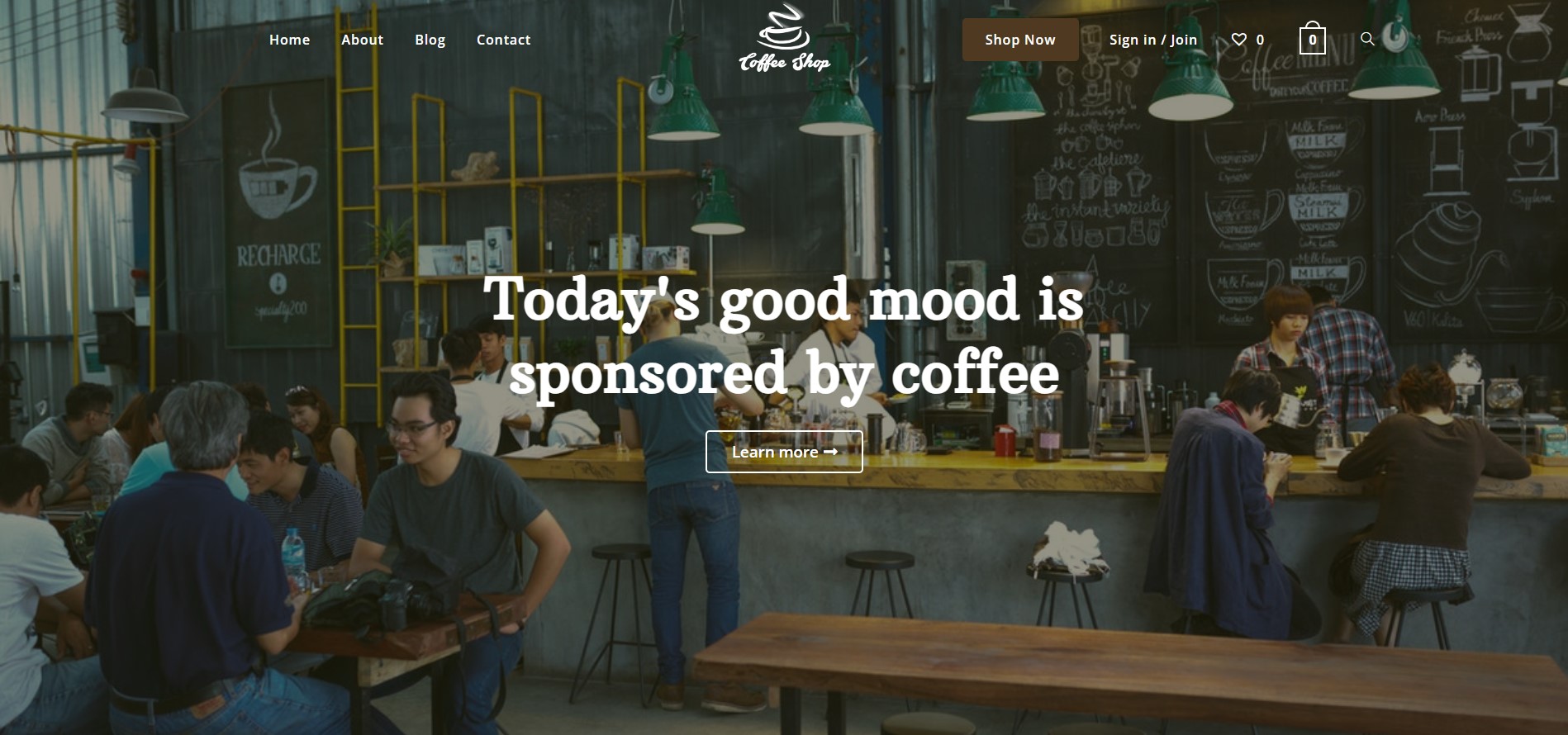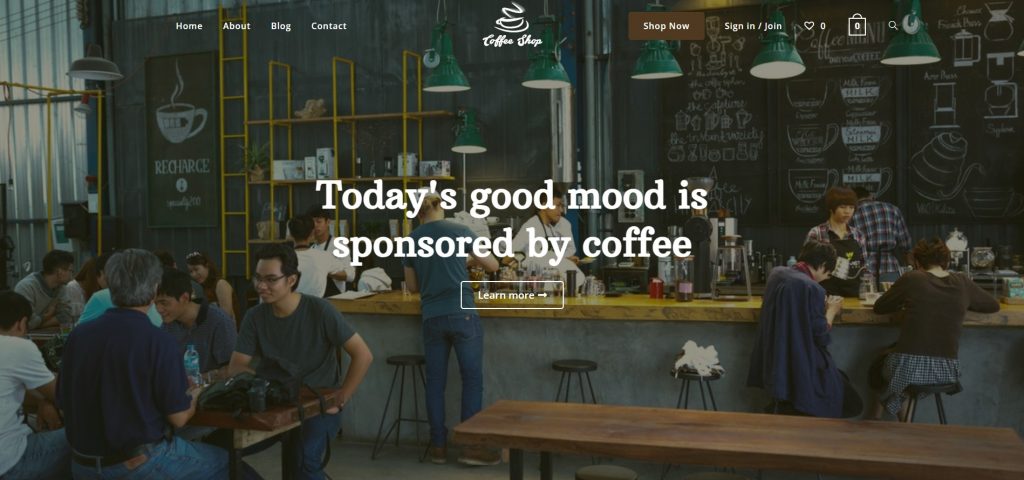 Next up on our list of awesome landing page templates is the CoffeeShop template by OceanWP. You can easily guess from the name what this template has been designed for: a coffee shop website.
As is often the case with these templates, however, the landing page can be customized to fit just about any other eatery: whether it's a restaurant, cafeteria, bar, etc. Nonetheless, it's packed with features that make advertising your establishment a breeze.
In fact, it offers sections for your opening hours; information about your eatery; a sample menu; a space to introduce your staff; contact information and address; as well as a contact form for users to reach out.
Our only complaint about this template is that it perhaps has too many navigation links in order to prove to be an effective landing page template. If anything, this template is more suited to a homepage rather than a landing page.
5. ALLHËR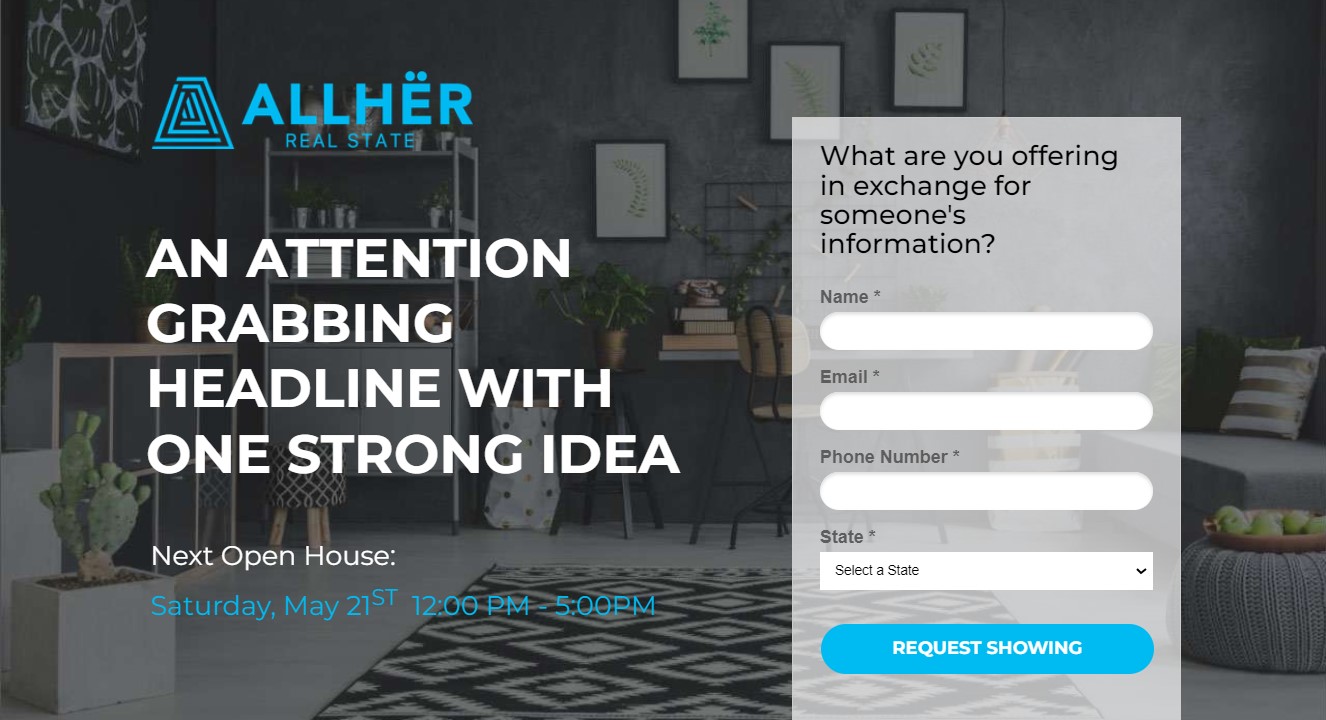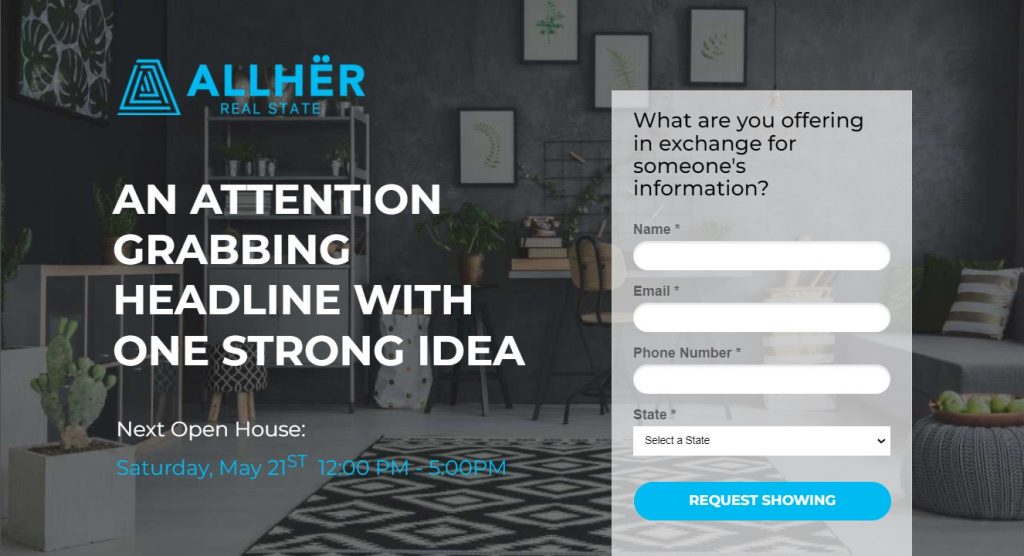 Another landing page template by Unbounce, this time called ALLHËR. This is another real estate landing page template that places a lot of emphasis on imagery and informing visitors about the features of the property that is up for sale.
The template also comes with spaces that introduce your agents to your visitors as well as be able to showcase testimonials from satisfied customers.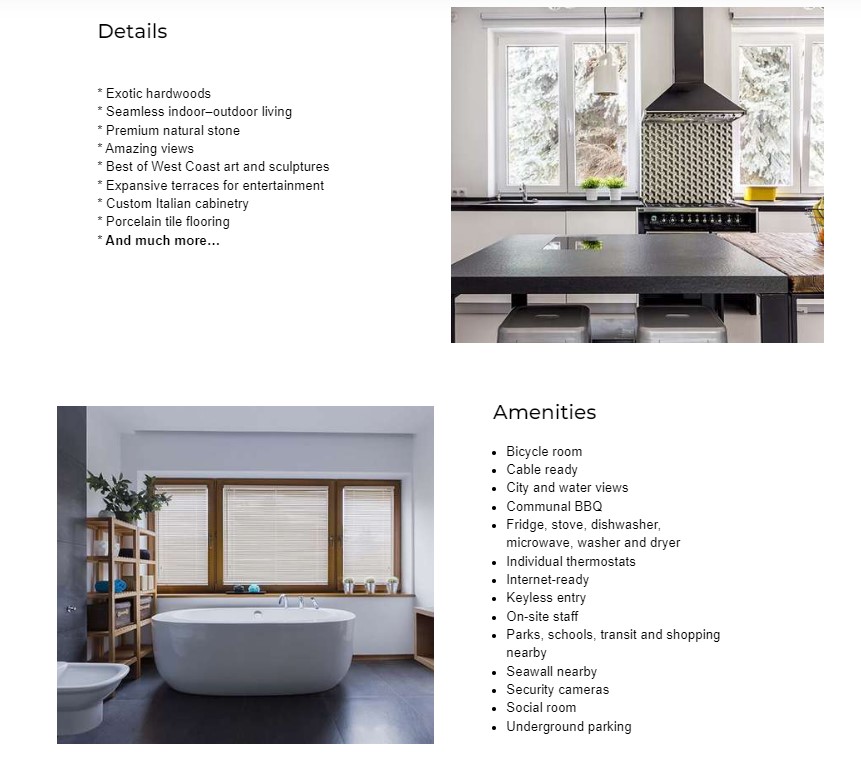 The only downside we can find with this template is that it is a little monochromatic. In other words, there's too much of the same colour. This can be interpreted as dull or uninspired, so maybe anyone using this template ought to consider some tweaking.
6. Bright Yellow and Black Photographic Fitness Service Website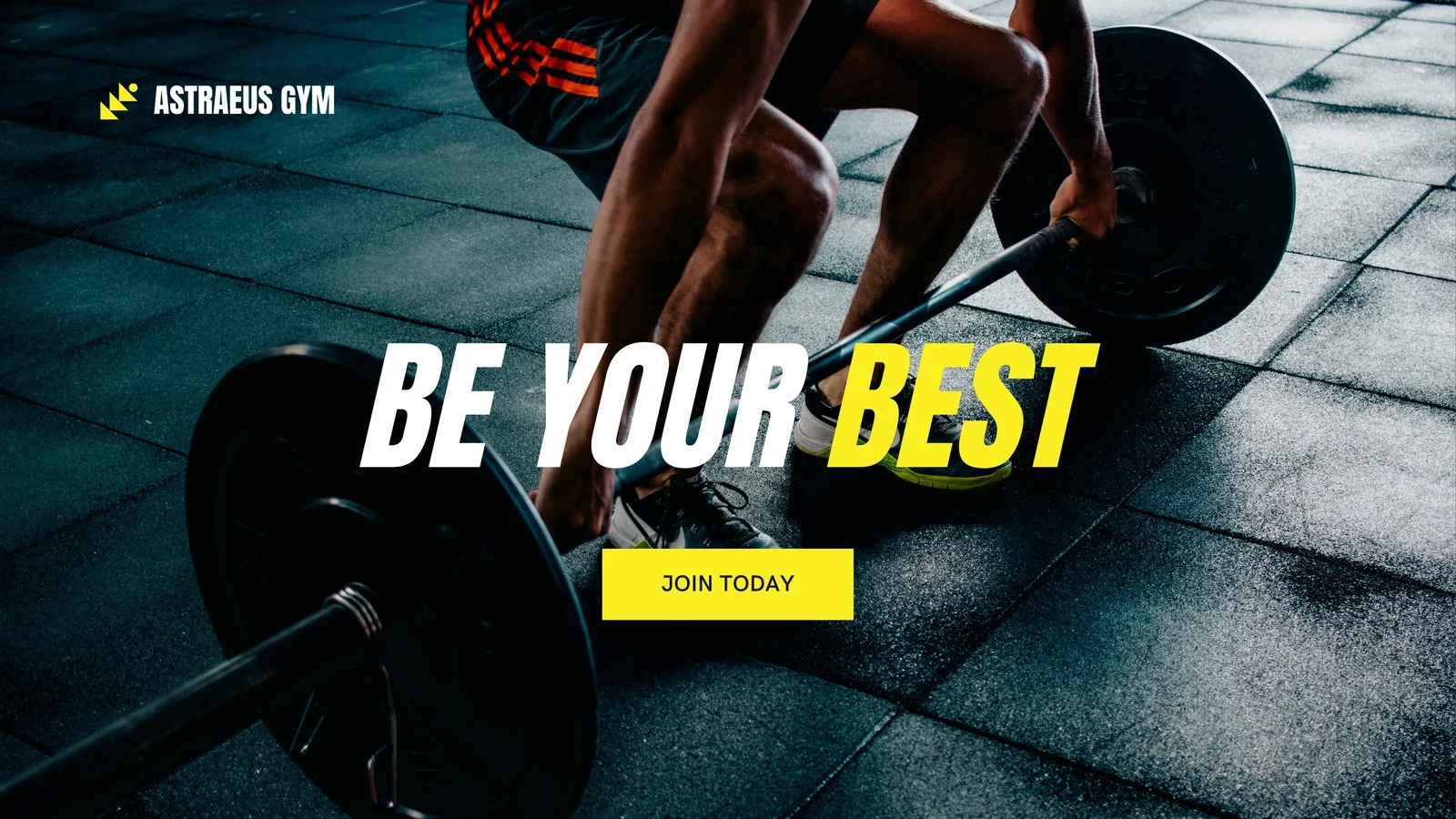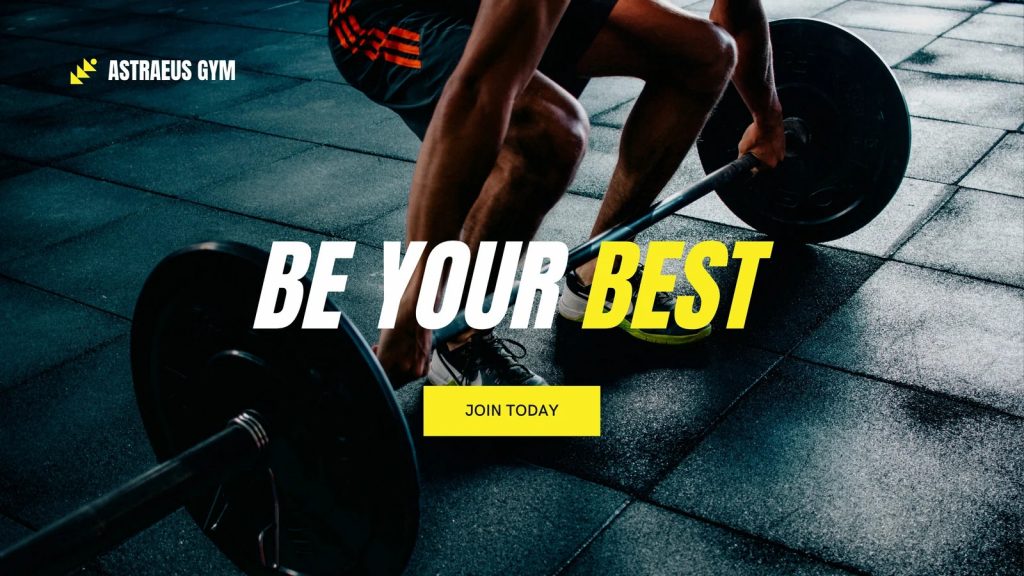 The name of this Canva landing page template is quite a mouthful (couldn't they have just decided on a catchier name?), but what it lacks in the succintness of its name, it definitely makes up for it by how fantastic the template looks.
The template uses a bold contrast, black and a vibrant yellow, in order to really capture visitors' attentions. In fact, the effect of the contrast is quite immediate, and visitors are sure to be taken in pretty quickly.
As the name implies, the template has been designed for a fitness website, and its layout has been perfectly created to get visitors to sign up for gym memberships. The template starts right off the bat with a CTA to join the gym, and then continues to explain the gym's story and services.
Afterwards, there is a section for testimonials and the template finishes off with the gym's contact details and address. The whole template is over in a couple of scrolls, perfect for a landing page.
7. Real Estate Landing Page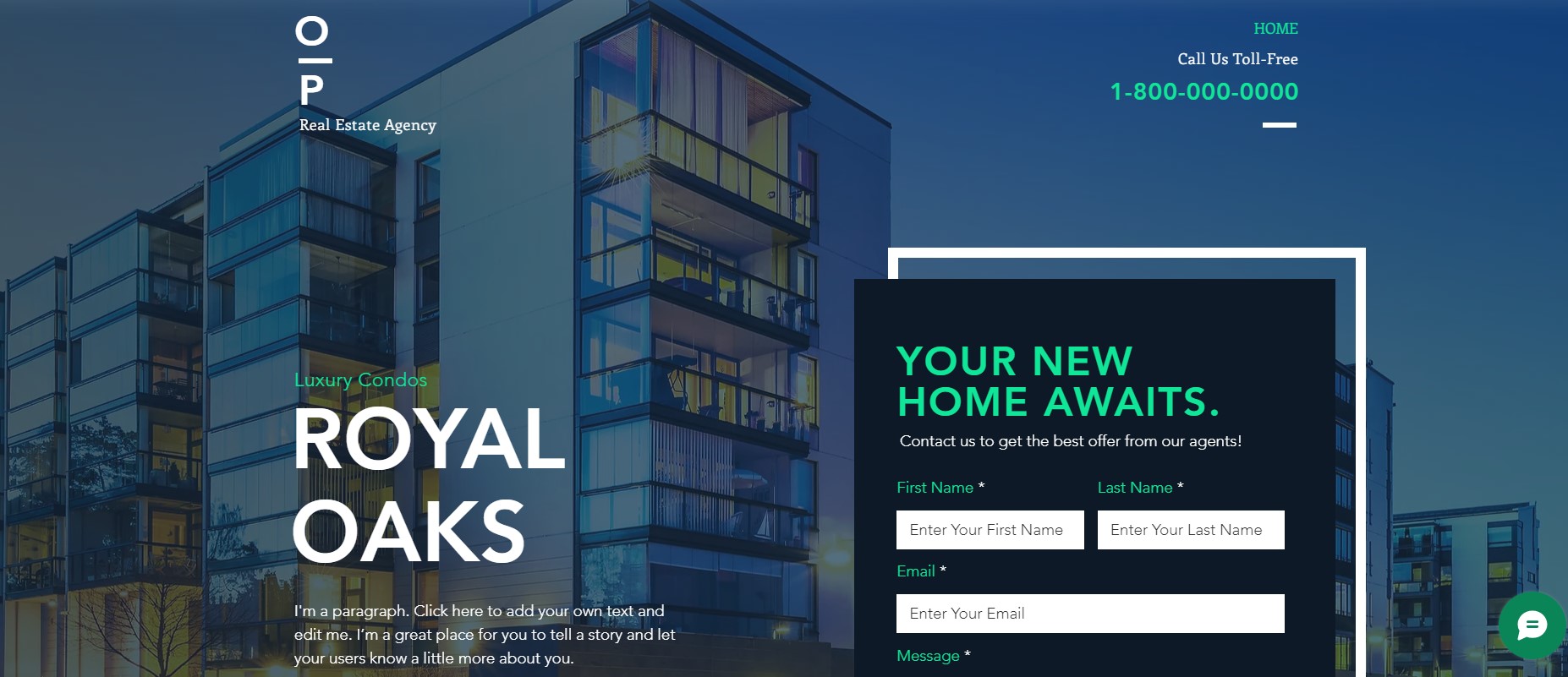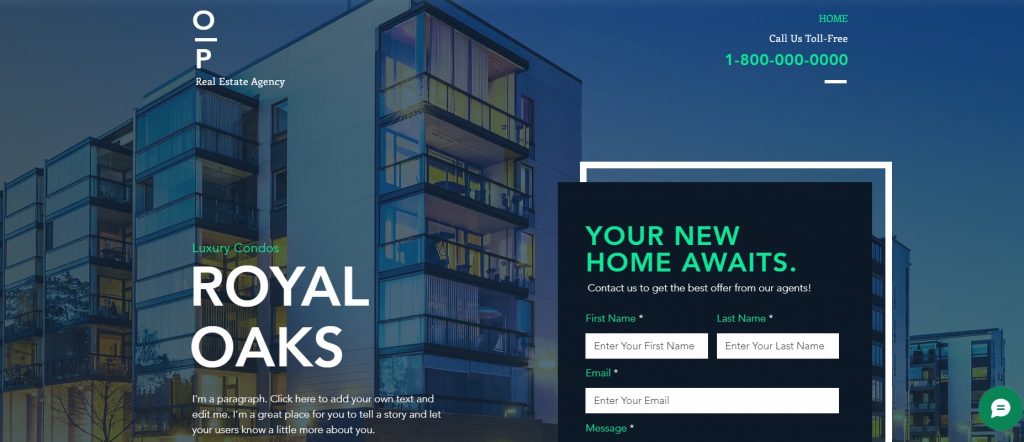 Another easy-to-guess landing page template name, the Real Estate Landing Page template is provided by Wix, who is known worldwide for its website editor. It has a multitude of templates (all of which are free if you accept Wix ads), customizable at will without too many constraints.
But out of all the website landing page templates provided by Wix, why did we choose this one? It's easy to see why when you look at the live preview of the template. The template gets straight oto the point, having a form front and center for users to fill in.
While the template provides a lot of space to showcase properties, as well as sections for providing property details, address, and benefits of your brand, it also makes sure that there is plenty of breathing room around the various sections of text, so as to never overwhelm the visitor.
Overall, this template is quite attractive, especially when you consider the navy blue theme with the pops of teal.
8. Solar Panels Quote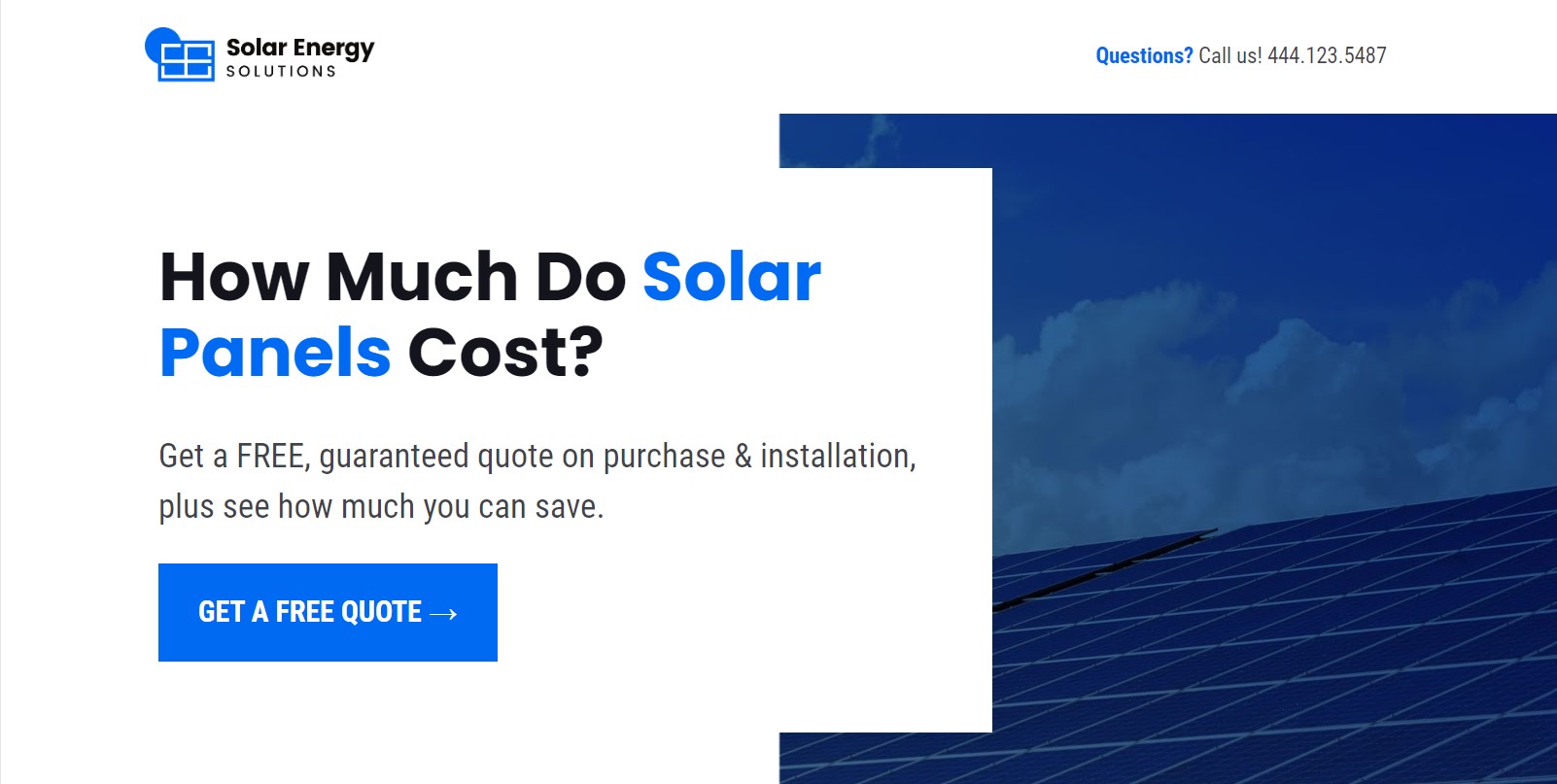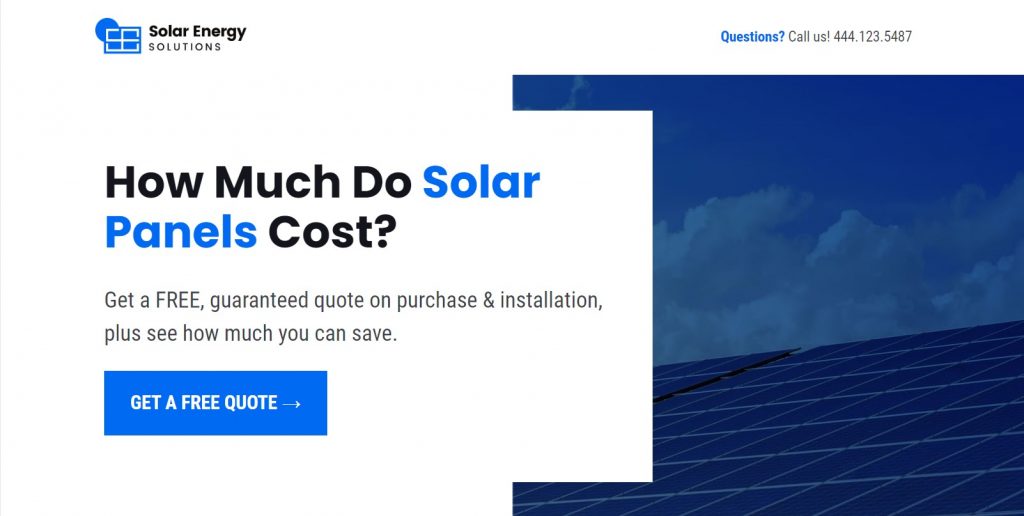 When it comes to professional landing page templates, Leadpages is definitely a great consideration. It allows you to create a landing page where visitors can both get information and buy. Like most of its competitors, Leadpages allows for a responsive design (phone, desktop). Here too, there are many templates at your disposal.
We went with the Solar Panels Quote template because not only is it visually striking, it is also responsive, with fields popping up as you scroll down. However, it might come off as a little bit too "busy", so it's best used with a landing page that's expected to have plenty of information.
The template, however, is peppered with CTAs reinforcing its message, and in fact, it has a CTA and a contact number in the first screenful, so it already gets the point across as soon as it has loaded.
9. Hestia Pro


If you were also looking for the best free landing page templates rather than just the best designs available, Hestia Pro might be a worthwhile consideration. The free version is downloadable as a .zip file.
The template is designed with a full website in mind, and you can see this from the navigation links and the many disjointed sections in the live demo preview.
However, despite that, it's fully customizable and it can not only easily be fit to any kind of business, but it can be stripped down to give you a landing page that's worth writing home about.
10. Plant Pots Online Shop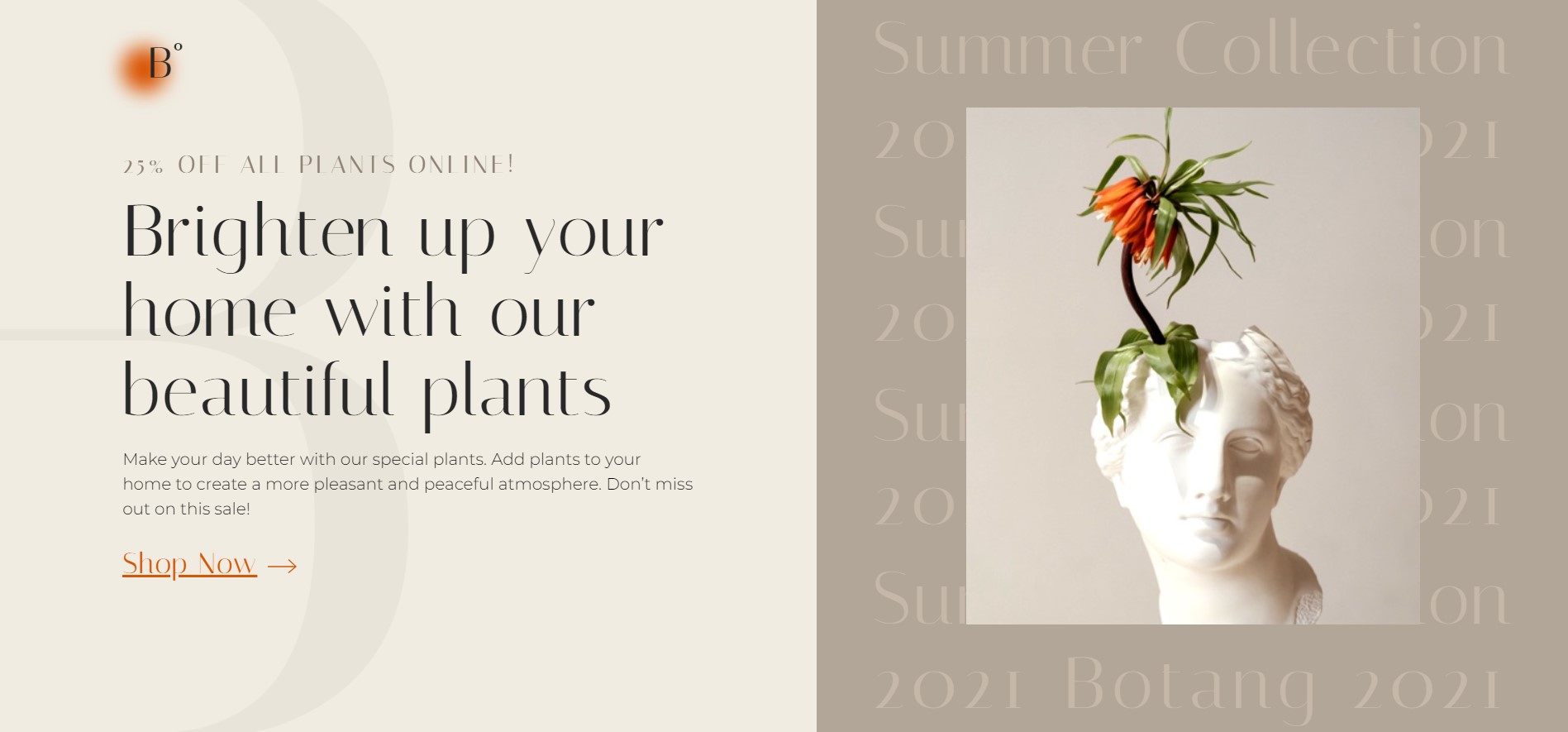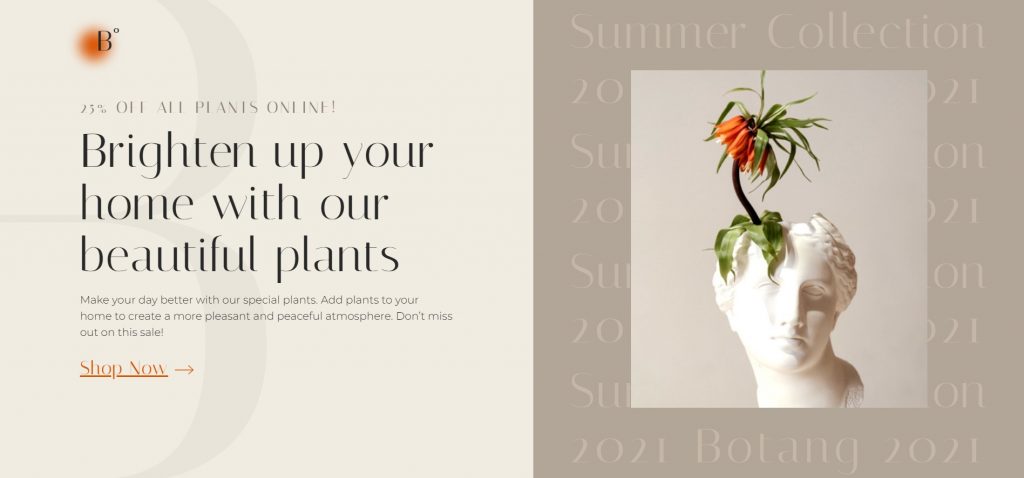 Plant Pots Online Shop is another template that's provided by Elementor, marking it as another entry in the best Elementor landing page templates list.
As the name easily implies, this template has been designed for an online store, with the particular theme chosen for this store being plant pots. However, that doesn't mean that you cannot fully customize this landing page for your particular store and its products.
There are many features that would recommend this templates as one of the best sales page templates you ought to consider. The template comes ready with a section for bestselling products, a section for testimonials, and a section for highlighting the benefits of your brand.
Finally, the template places an emphasis on the landing page's purpose (that is, offering a discount to visitors), as well as having a handful of CTAs already in place to reinforce the landing page's message.
11. Demo Request Landing Page 2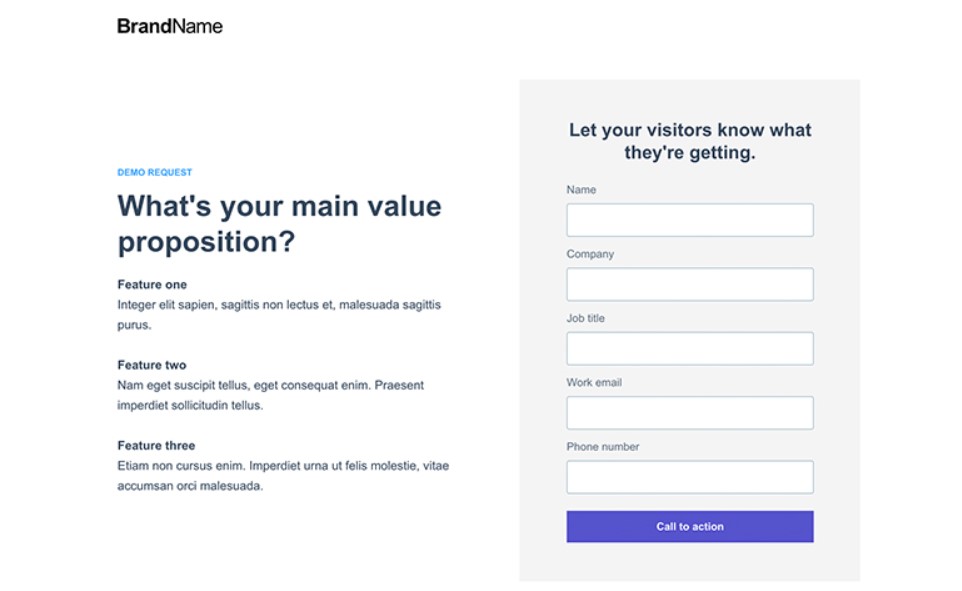 Sometimes, the best modern landing page templates aren't visually stunning: in fact, they can be rather plain but just as effective as the most beautiful landing page designed. The Demo Request Landing Page 2 template is offered by Instapage.
With a large catalog of templates, Instapage is known to have the "best" interface. You can customize it as much as you want, you can play with colors and illustrations. Moreover, the analysis and reporting tools are really good.
Back to the template: the Demo Request Landing Page 2 template shows you how a landing page can be reduced to its most basic elements but it can still prove effective. In fact, the first screenful of the template presents the visitor with your value proposition as well as a form for them to fill.
12. SEARCH


This is another WordPress template that can easily be adapted to any kind of business. And while this template is designed with a full-fledged website in mind, using it to a create a landing page is also possible.
The simple design and purple-and-gray colours of the SEARCH template not only make it easy on the eye from an esthetic perspective but also from a "lack of clutter" perspective, making it a great candidate for your landing page.
Not only that but the template presents visitors from the get-go with 2 CTAs. Moreover, scrolling farther down, there are sections for explaining the benefits of your brand as well as a testimonials section—two extremely important elements for a landing page!
13. Business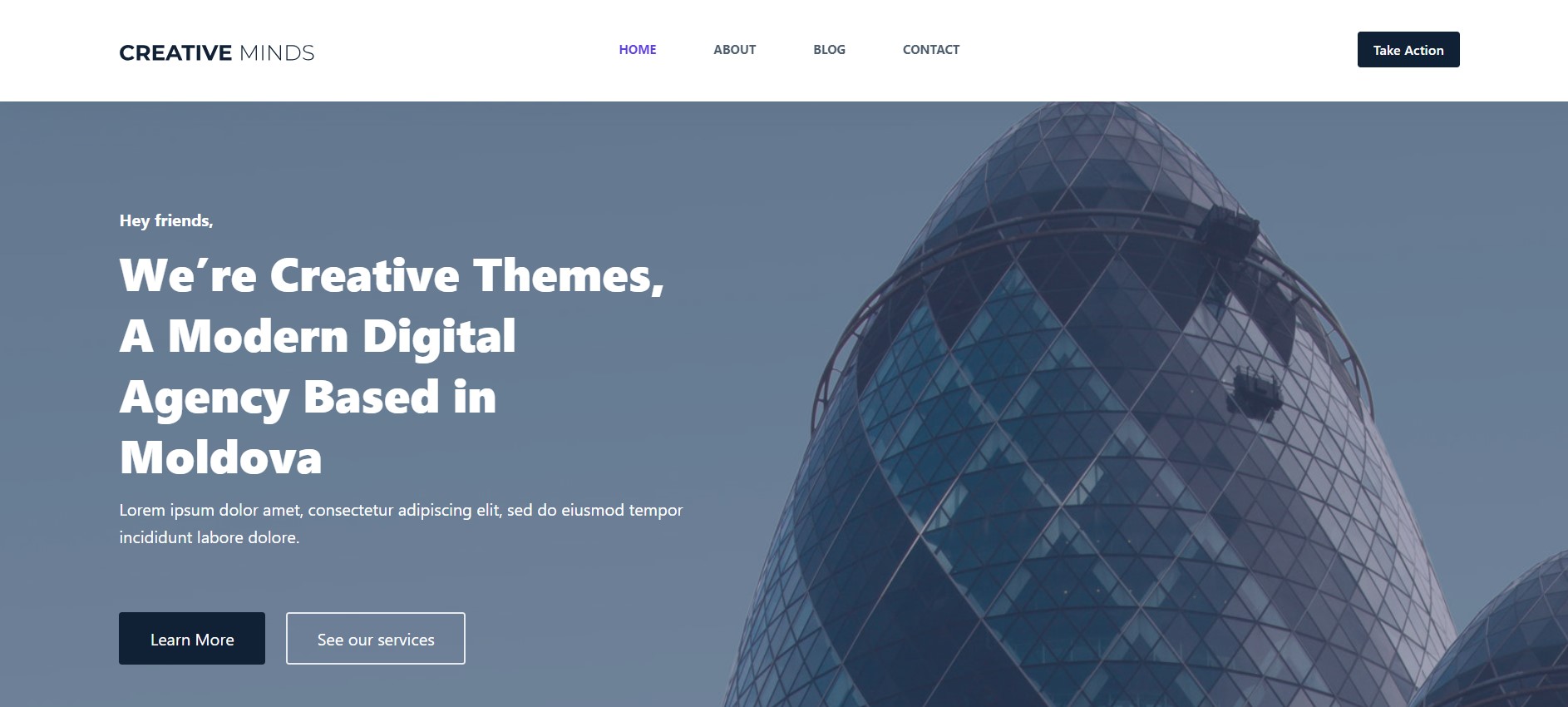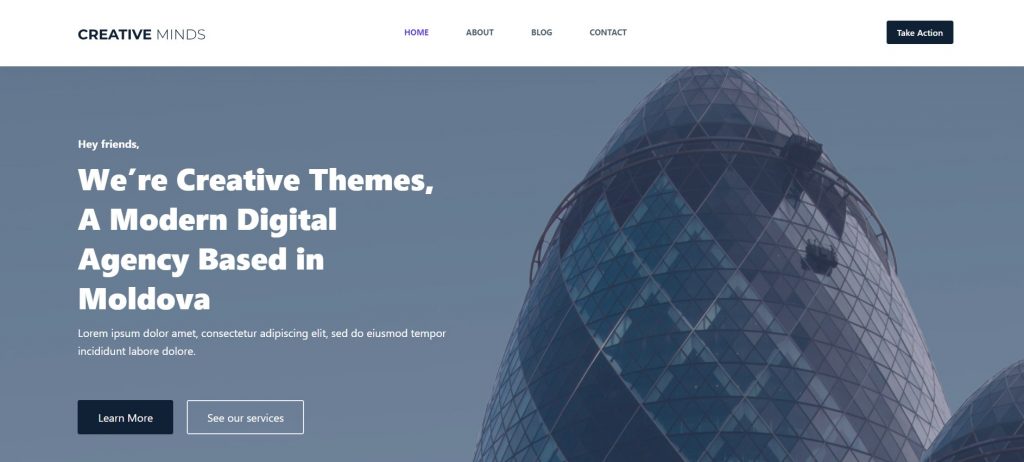 The Business template is not only pretty to look at, with gently contrasting colours and smooth sans serif fonts, but it's also easily adaptable to any business. It's also a template that's been designed with a homepage in mind. Of course, you can easily strip it down to have it adapt to a landing page.
In fact, it's rather suitable for a landing page as the template starts off with a couple of CTAs and, one scroll later, immediately tells the visitor the available services of the brand.
The template has more features that can be interesting, like contact CTAs, testimonials, and even some videos, but our suggestion is to eventually shorten the landing page as much as possible. Remember that landing pages need to be laser-focused.
14. Day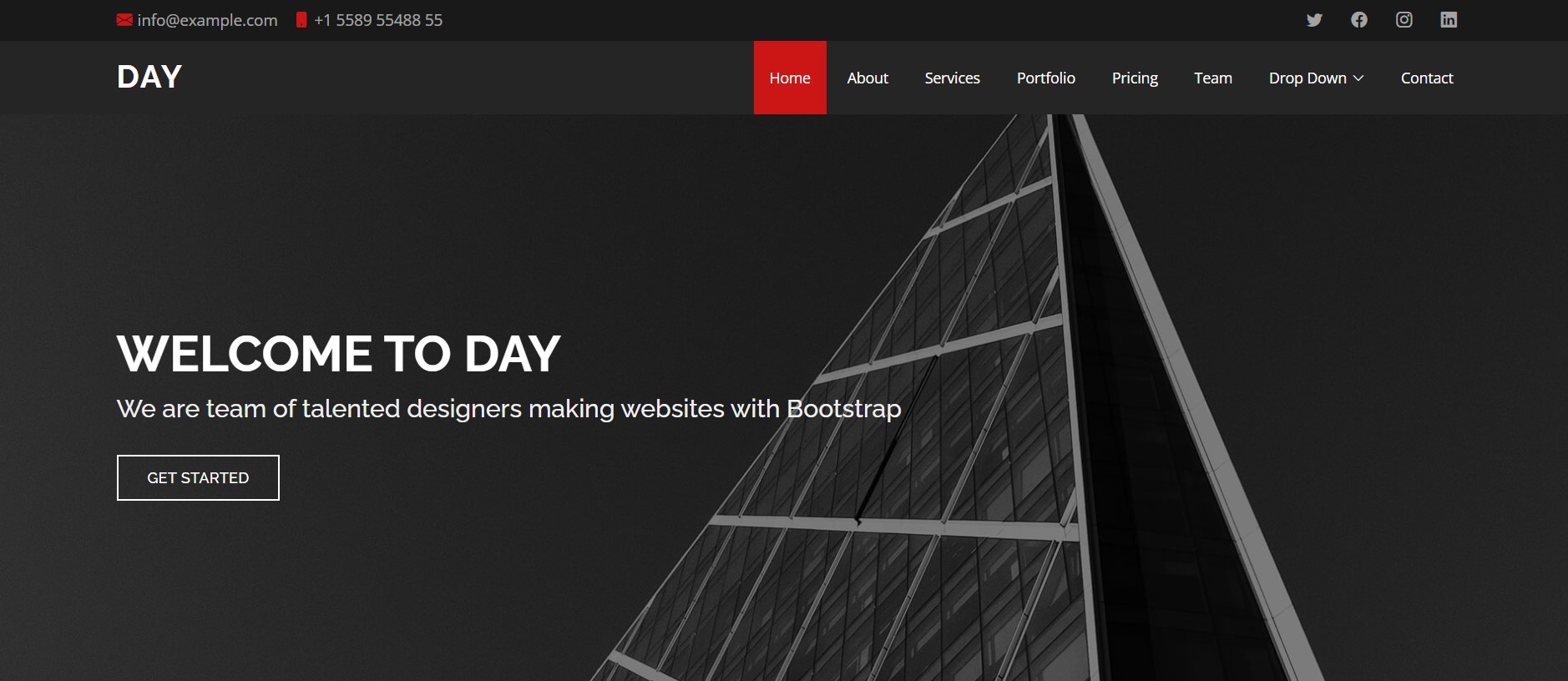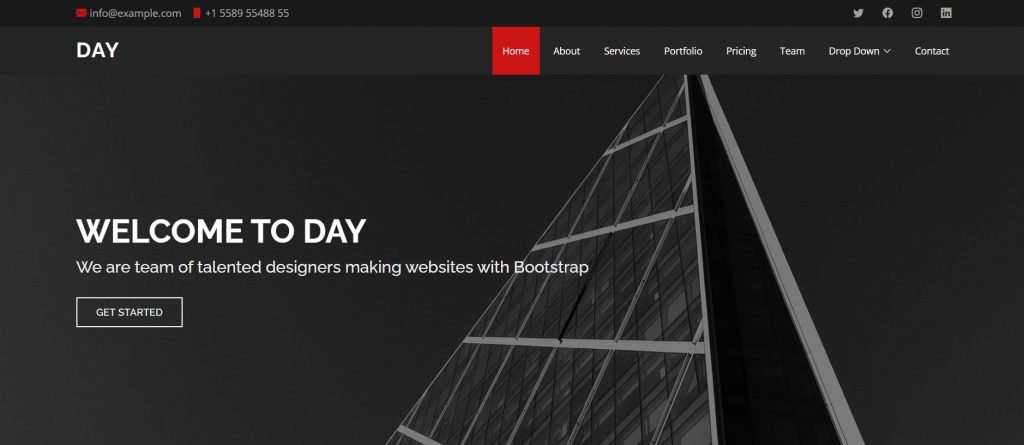 Can we really speak about the best landing page templates without mentioning any of the best Bootstrap landing page templates? Well, we don't think so! The Day template by BootstrapMade is an attractive template that makes use of a white-black-red trio of colours that's quite easy on the eye.
Designed to be adapted to any kind of business in any kind of industry, the template can easily be used for either a homepage or a landing page. However, since landing pages is our subject, we'll stick to those. The template provides all of the necessary in order to promote your business: from an about section, to a section for services, a portfolio, a pricing section, etc.
However, when it comes to using the Day template for a landing page, you might want to consider shortening it, especially if you are promoting an offer rather than your brand. Did we forget to mention that it's also free?
15. Memento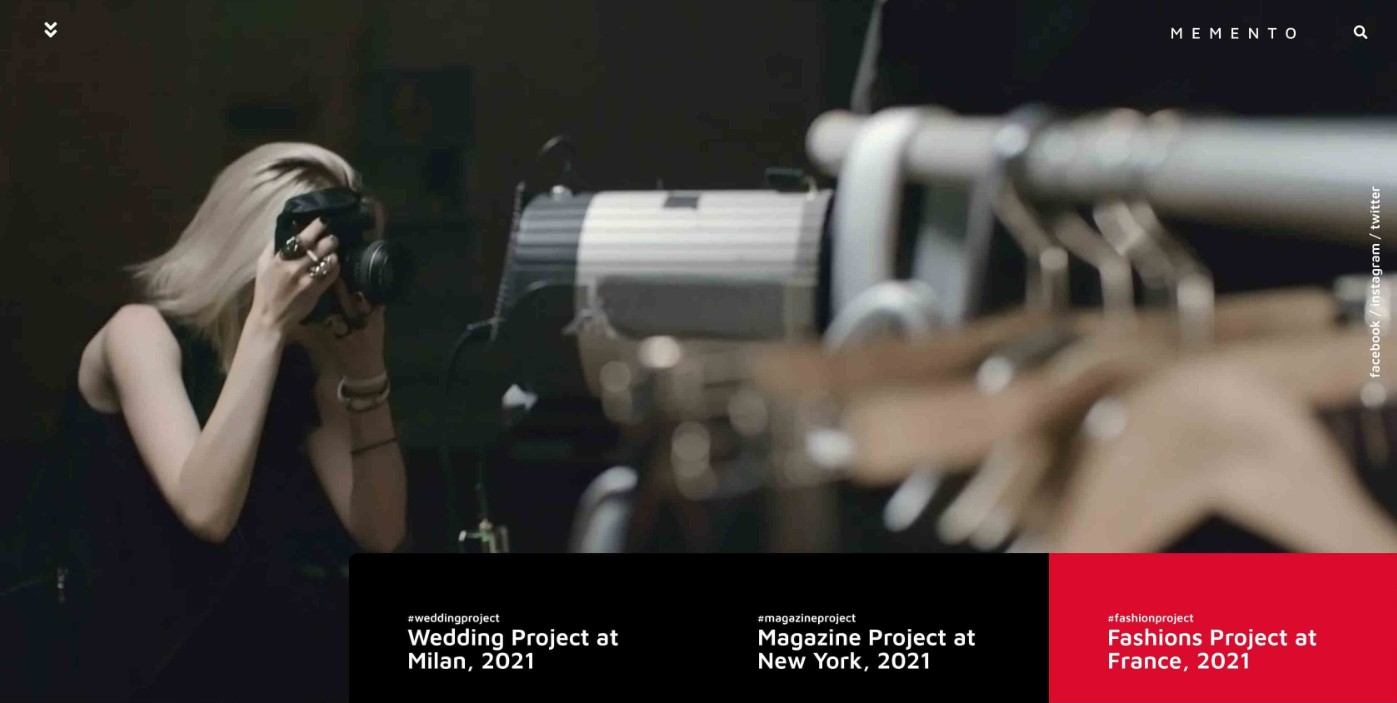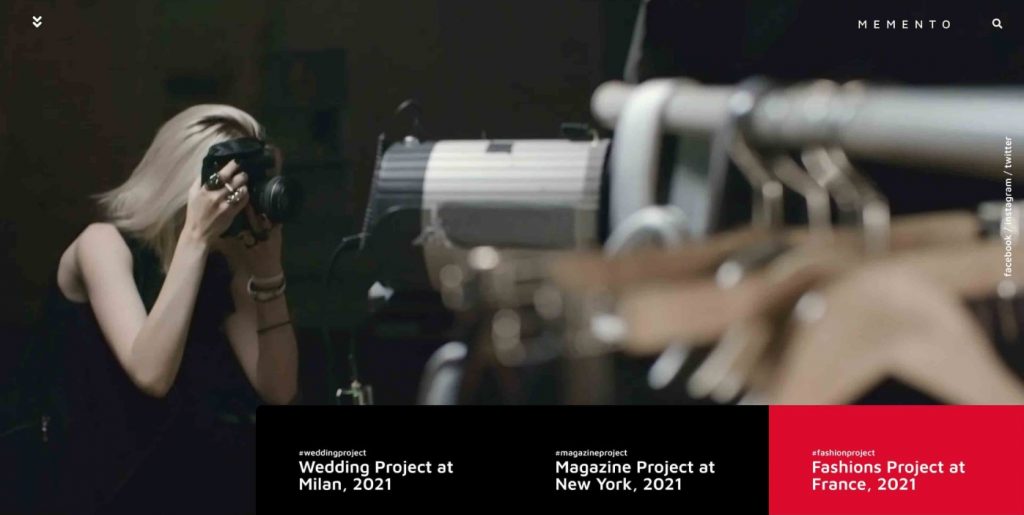 The Memento template is another portfolio template, but this time with photographers in mind. However, as with all the other landing page templates that we have seen so far, it can easily be customised to fit your own brand.
In fact, this is more than just a landing page template: it's a whole template kit that offers templates for several pages of a website. In other words, with the Memento template kit, you basically have a whole, mini-site ready to be made.
16. Traditional Art Portfolio Website in Black Blue Ivory Dark Experimental Style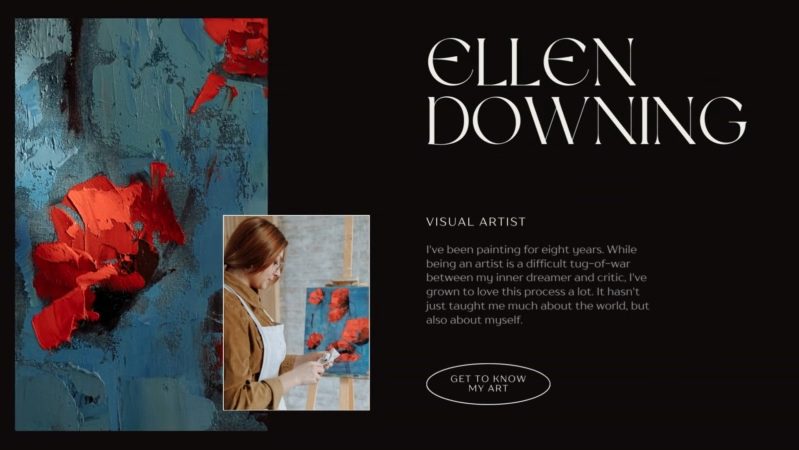 Another needlessly long template name by Canva, but it nonetheless fits in our list of the best landing page design templates. This is another portfolio template that aims to present visitors with an artist's works.
Largely dominated by a black background only to be interrupted by an elegant white font, this template has plenty of spaces to fully exhibit an artist's skills and works. Not only are you encouraged to display your works but there are sections where you can talk about your specialties, education, etc.
Naturally, then, the template finishes off with a contact section, where you can stick your address and other contact details.
17. Hummingbird Free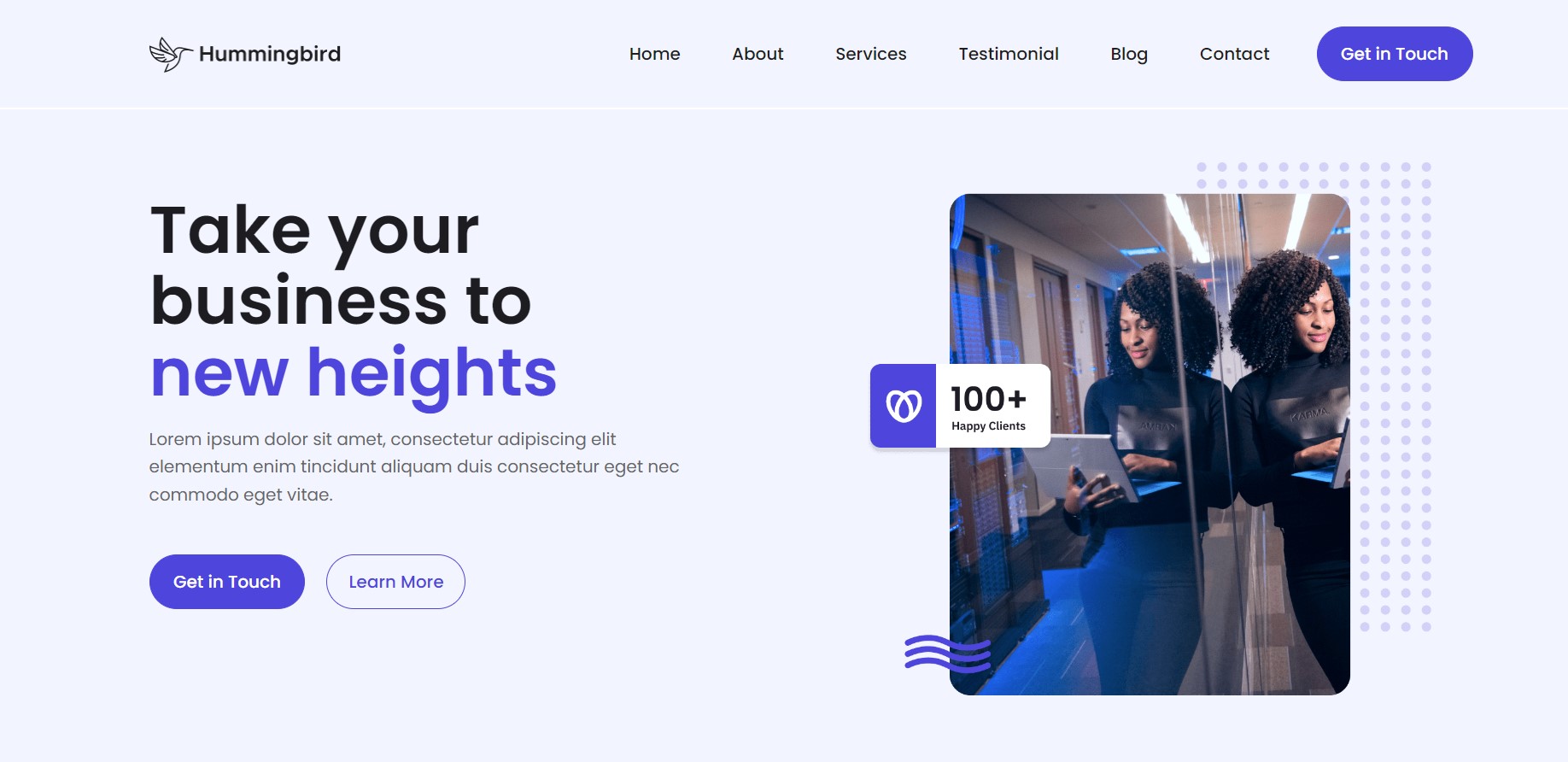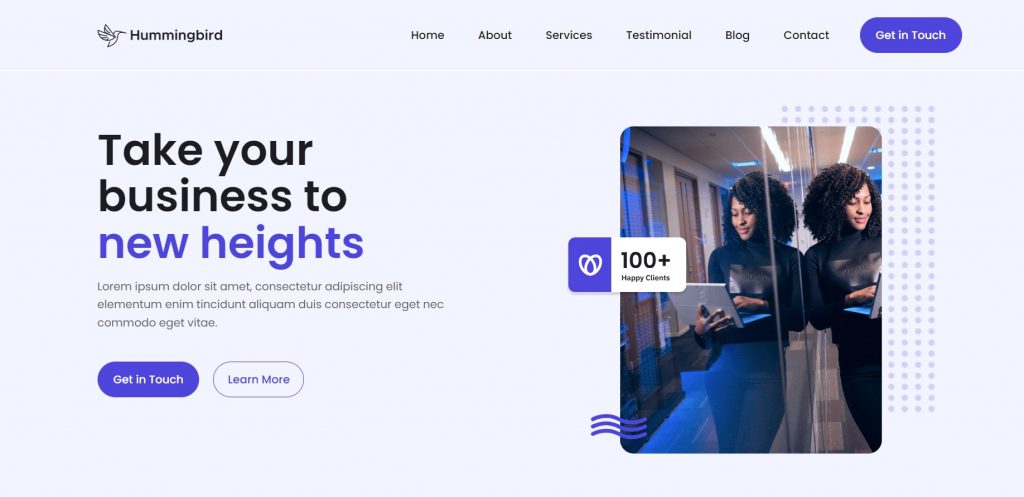 This listicle won't be complete if we didn't also include at least one of the best HubSpot landing page templates somewhere. The Hummingbird template is completely free and it has largely been created with an advertising agency in mind.
However, thanks to the customizable nature of the template, you can adapt to any business and industry. Moreover, while the template helps you design an entire website, you can very easily use it for a landing page.
In fact, the template has all the necessary features for a landing page: CTAs presented above the fold, a section for services, a section for testimonials, and even FAQs!
18. Real Estate Agent – Lead Generation Funnel

Our final entry also happens to be a real estate landing page template (it's a coincidence, we swear!). The template gets right into the meat of its message: to promote properties.
The first screenful of the landing page presents some features of the property in question as well as a CTA that directs the user to contact the agent that's publicising the property. The landing page has other properties listed on it, but our advice to keep it focused to only thing.
In fact, the template live preview is a bit long, so you might want to trim it down quite a bit if you're using it for an advertorial landing page. However, be warned that this template is far from free: it costs just under $100.
FAQs
What is the best layout for a landing page?
The best layout for a landing page should be one that's free from clutter, gives plenty of breathing room to the most important elements (like CTAs, benefits, etc.), and has a consistent theme throughout by having all of the elements reinforce the value proposition of the landing page. Moreover, a lack of navigation links, social proof, a catchy headline, CTAs, and at least a bit of copy to explain the offer are fundamental to a landing page.
How do I make an impressive landing page?
The easiest way to make an impressive landing page is to pick one of the templates we mentioned above. Make sure to pick the best template for you, whether that's a video landing page template, a portfolio template, etc.
Once you've chosen a template, be sure to add your own, unique elements to the template (your value proposition, brand details, etc.); insert pictures that not only explain what you're offering or reinforce your message but really capture a visitors attention; and craft a catchy headline and copy that aims to convince visitors to convert. Oh, and make sure that all of your elements, like CTAs and links, are working!
Is Canva good for landing pages?
Of course! Canva provides hundreds of great landing page templates that are customizable to your business as well as extremely attractive to look at. Moreover, thanks to Canva's user-friendly drag-and-drop editor, you don't need any web design experience to create a landing page!
What makes a bad landing page?
There are many factors to a landing page not being up to standard, but it all boils down to too much clutter, and no consistency at all. Having too much text; too many distracting elements, like navigation links, pop-ups, or lots of interactive elements; a lack of details about the offer; CTAs not being consistent with the offer or CTAs being too generic; or even having a landing page that's different from the ad users clicked on are all features of a bad landing page.
In the End, Which Template Wins?
After looking at all those beautiful landing page templates, it can easily prove difficult to choose the best template. However, according to our professional opinion, the best templates are the ones that convert.
There are no good or bad templates (although they can help you greatly), it's your content and its prioritization that will make the difference for sure. If you need help building your landing page, contact our experts right away.
And if you have tips, templates and other landing page creators to suggest, go ahead and share your ideas with us!