The Best PPC Blogs to Follow
So, which of the Google Ads blogs out there did we choose for you? We went a step further and instead of providing a simple list of the top 10 best Google Ads blogs, we threw in 2 extra just for you!
We chose these blogs based on a number of criteria, including the authoritativeness of the blog; the value you can get from it; and if they regularly write about Google Ads. Of course, you don't have to follow all of the below paid search blogs (although we would highly encourage it!), following at least a handful of them will already catapult your paid advertising skills to the next level.
And not only that but they can serve as useful opportunities in order to revise what you already know about PPC, especially if you're going to take the assessment of any of the Google Ads certifications available. Speaking of which, if you're wondering which Google Ads certification is best for you, we have a post exactly on that, so we suggest checking it out!
But before we can begin with the meat of our listicle, it's also interesting to bear in mind that most of these blogs also have comment sections that function almost like mini-forums in their own right, especially the comment sections are particularly active. However, if you're looking for actual forums, then we have also provided a list of the best Google Ads forums that any marketer should form part of.
And now, in no particular order, here are our top PPC blogs:
1. Google Ads Blog


The first and most obvious choice to consider for this article is the actual Google Ads Blog itself. When it comes to all of the Google Ads blogs out there, can you get any more authoritative than the blog written by boys and girls at Big G itself? That's pretty difficult to beat for a pay per click blog in our opinion.
If you're using PPC for your digital marketing campaigns, then it's imperative that you follow the Google Ads Blog as you'll be receiving top-quality information from Google themselves about their own product. And you're receiving all of this for free. So, really, you'll be losing money not following this blog.
With the Google Ads Blog, you can find news about updates and new features on Google Ads; tips on how to improve your paid advertising (with Google Ads, obviously); notifications on upcoming events held by Google; and many other worthwhile insights to check out!
2. Google Ads Developer Blog


Next up on our list of the top PPC blogs that you need to follow, there is another blog by Google; this time, the Google Ads Developer Blog.
We swear it wasn't our intention for Google to steal the show when it comes to the best advertising blogs, but if you can get high-quality information straight from the source—well, that's too tempting an offer to pass up.
This is far from the best blog to learn PPC as it is reserved for seasoned marketers who make use of the Google Advertising Platform developer tools. However, if you are a marketer that makes use of the Google Ads API, and other similar tools, then this blog is essential to follow.
3. Search Engine Land

We think it's about time to mention some other Google Ads blog other than the ones that Google themselves curate, and there is hardly any better blog to mention than Search Engine Land.
One of the most renowned digital marketing blogs out there, Search Engine Land writes about pretty much every forms of SEM (search engine marketing) under the sun. But not only do they excel in the breadth of their content, the quality of each one of their blog posts (even the guest posts they feature) speaks for itself.
But there's more as well: not only is their blog of amazing quality, but they also host webinars, produce online courses, and even write white papers. There is definitely a lot of value to be had by following this blog.
4. Search Engine Journal


Another fantastic digital advertising blog that also has "Search Engine" in its name, and that's Search Engine Journal. This is another all-round blog that writes excellent content about every aspect of digital marketing—including, of course, paid advertising.
The best part about this paid search blog is that not only does it write about Google Ads, but it also goes into other forms of paid advertising as well, in case you were thinking of branching out. But let's stick to the subject of Google Ads here: Search Engine Journal covers the whole gamut of Google Ads on their pay per click blog.
In fact, you can find news regarding paid search; guides on how to use certain aspects of paid search; tips and strategies on how to improve your PPC campaigns; and, best of all, they have a section called "Ask a PPC Expert" where you could submit your own questions for a chance to have them answered by an experienced marketer!
Finally, they even host one of the best Google Ads podcasts out there, called the Search Engine Journal Show. If you're looking for a new podcast to follow and you're interested in learning more about PPC, Search Engine Journal's podcast is well worth checking out.
5. Search Engine Watch


Ok, this is the final PPC blog with "Search Engine" in its name. This time it's Search Engine Watch, one of the oldest digital marketing blogs out there, and definitely a deserving inclusion in our list of the best Google Ads blogs.
And we're not the only ones who think so either: Tim Mayer (the former Yahoo! Vice President of Search Market, and not the Formula One race organizer) has said that Search Engine Watch is the "most authoritative source on search". And even legendary ex-Googler Matt Cutts has said that this blog is "a must-read".
We don't know about you, but that's already enough to sell us on this blog! But there is definitely much value to be had from Search Engine Watch, as it has a long history of being a top-notch source of SEM tips, tricks, and general information.
6. Unbounce


It would have been rather careless of us to omit the blog of the highly renowned landing page platform, Unbounce. It's easy to see why considering that Unbounce is one of the market leaders of landing page and CRO (conversion rate optimization) tools.
In other words: if your company is based around fundamental aspects of digital marketing, you better bet that you're going to be an expert in it. And Unbounce actually delivers on the promise of being a great paid advertising blog because it has a wide array of guides.
Indeed, you can find blog posts on how to improve your landing pages by explaining the characteristics of a good landing page; guides on how to improve your email marketing campaigns; examples of amazing landing page examples to inspire yours, and many others.
7. Semrush

This next entry is a digital adveritsing blog written by the creators of one of the best suites of digital marketing tools out there on the market: Semrush. And so, not only is their tool one of the greatest out there, but their blog is also something to write home about.
The Semrush blog is probably one of the best blogs to get started in paid advertising as it's full to the brim with how-to guides that explain basic concepts in PPC, like what is PPC? and how to do a PPC audit? However, other than these guides, users can also find articles that provide advice on how to improve at PPC.
And probably the best part about this pay per click blog: they don't simply blow their own trumpet by extolling the magnificence of their own tools, but also mention other tools and offer advice for any kind of user, even the ones that are not actively making use of Semrush.
8. HubSpot


Can we really forget the blog of the one and only HubSpot? Obviously, the answer is "no." As one of the leaders in CRM (customer relationship management) software, HubSpot also offers one of the best PPC blogs out there, thanks to the undeniable quality of their blog posts.
Not only does the HubSpot blog offer insights into paid advertising, but they have offer advice into every aspect of digital advertising, from SEO to email campaigns to social media. When it comes to Google Ads, HubSpot offers tips on how to improve campaign, guides on different types of Google Ads, and so on.
Finally, not only does HubSpot provide an excellent blog, it also offers plenty of additional material that makes it an outstanding source that every marketer should make it their goal to follow. These include survery results, online courses, infographics, downloadable templates, and more.
9. Adcore Blog


Next up we have the blog at Adcore, a company that offers digital marketing solutions like their Marketing Cloud technology, which is a suite of marketing apps that monitor your ads accounts' performances, optimize your ad campaigns, etc.
If you provide marketing solutions, you ought to be a marketing expert yourself—and Adcore are no exception to this rule. Their blog deals with all things digital marketing, so not only will you find insights into PPC, but there are blog posts about other forms of marketing, other ad platforms other than Google Ads, etc.
But when it comes specifically to Google Ads, Adcore have a category dedicated entirely to Big G's ads platform. There you can find everything you need to know about Google Ads, from something as simple as how to add a payment method to one's Google Ads account to predictions of how Google Ads will be in the future.
10. PPC Hero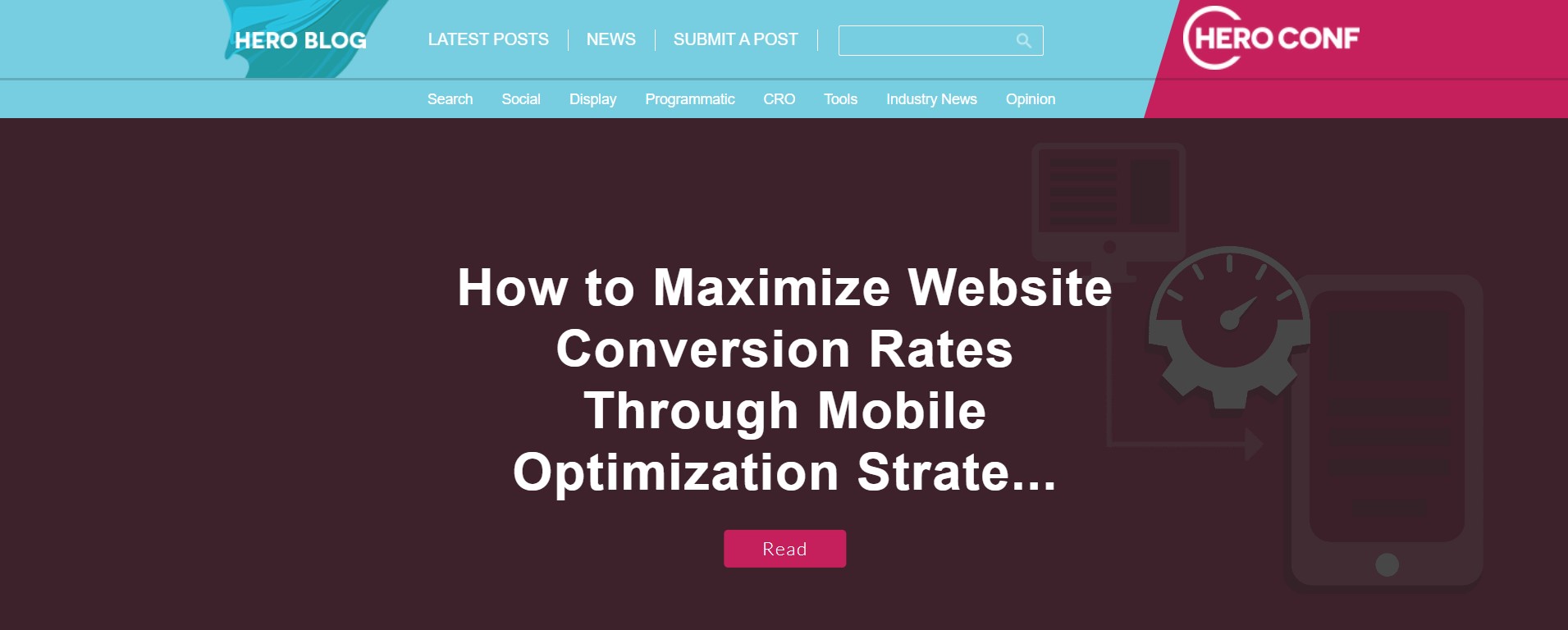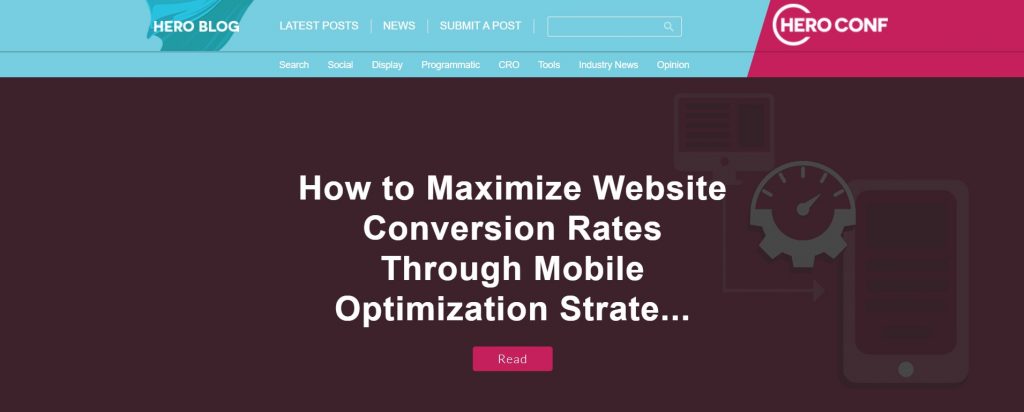 The PPC Hero blog, as you can imply from the name, is dedicated to all things PPC. Hailed by many as a gold standard for paid search blogs, PPC Hero provides blog posts for every sort of marketer out there: from the beginner looking to cut their teeth on paid marketing to the veteran marketer that knows Google Ads like the back of their hand.
In other words, PPC Hero has both guides that explain basic concepts of pay-per-click marketing, to advanced topics that require quite a bit of marketing experience in order to truly understand. Moreover, one of the best things about PPC Hero is that its writers are unapologetically daring, speaking their minds openly and put their theories to the test fearlessly.
Other than their blog, PPC Hero also has a YouTube channel, which just so happens to be one of the best YouTube channels to learn Google Ads from. However, the sad thing about PPC Hero is that they seem to be on a publishing hiatus… as of the time of writing, their last post was published in November of 2022. We hope that they begin publishing again to fill in the emptiness that their absence would have on the PPC world!
11. WordStream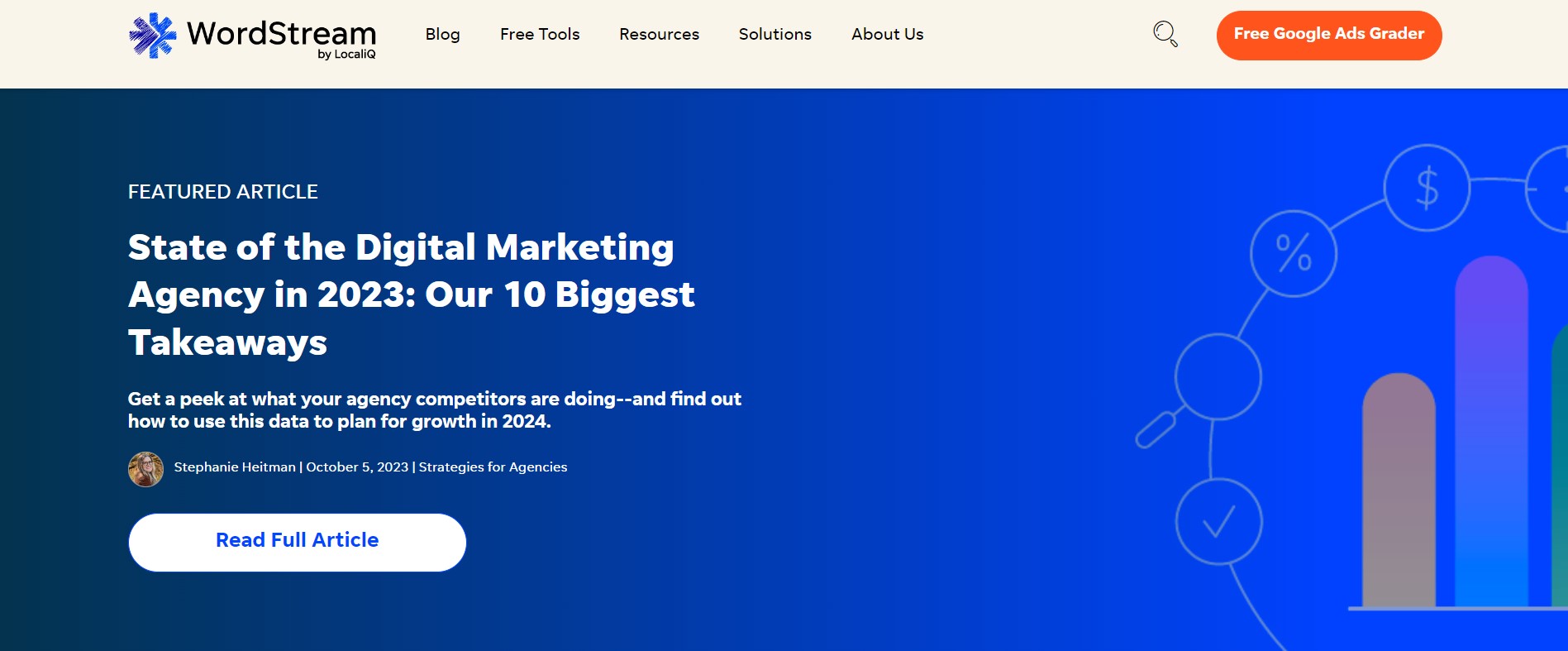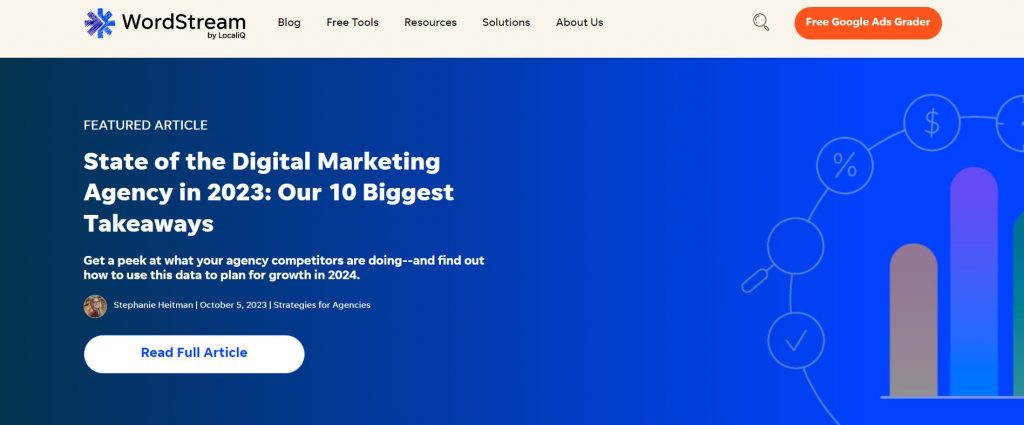 We're nearing the end of our listicle, but that doesn't mean that the quality of these blogs is decreasing or anything of the sort. In fact, this next entry is about the WordStream blog, which definitely merits inclusion in our list of the best blogs for Google Ads marketers.
As a company that creates tools that help optimize your ad spend and one that has been around in the PPC world for as long as anyone can remember, it's natural to arrive to the conclsuion that WordStream know what they're on about. But not only does WordStream offer insights into paid marketing: their blog extends to every facet of digital marketing too.
Moreover, their blog is updated nearly every day with in-depth, data-driven articles and guides, so there's to benefit from by following them. When it comes to Google Ads, they cover a range of different topics: from news about Google Ads and new features, to how to use Google Ads in particular niches, like real estate.
12. Neil Patel


Last but definitely far from being least, we have Neil Patel, who is one of the most renowned marketers out there. In fact, the Wall Street Journal has went so far as to call him a top influencer on the web, while Forbes declares that he is one of the top 10 marketers out there.
Neil Patel has managed to build a highly successful advertising agency known as NP Digital, so their expertise in all things digital marketing speaks for itself. And naturally, their expertise extends to more than just paid advertising to also include SEO, social media, and email marketing.
When it comes to Google Ads, Neil Patel's blog explains everything from the basics to tips for advanced marketers. In fact, you can find blog posts that deal with how to boost your ROI through ads, improve your ad campaigns, etc. And on top of that, they also have their free Google Ads Grader tool!
Which Is the Best Google Ads Blog for You?
With a list of 12 candidates for the best blogs for Google Ads information, new strategies, trends, etc. the question is bound to emerge: which is the best PPC blog for you?
Naturally, this question is both difficult and easy to answer. Our advice is to follow all of the above paid search blog examples we have listed (and even any other great blogs you might know of!) and that's because you can learn something from anyone. However, we understand that not everyone has that kind of time.
While we have identified 12 best paid search blogs (and it was already hard enough as it is to narrow it down to 12!), we would suggest definitely following the Google blogs. Then feel free to choose from any of the other blogs we have identified in addition to those.
Choosing the best PPC blog for you might be as simple as resonating with the author, liking the general writing style of the blog, or appreciating the strategies on offer. There's really only one way of finding out and that's to go through these blogs, read their content, and figure out which one/s you prefer the most!